Incredible personalities of West bengal

Famous personalities in west bengal are really incredible.words about them are always wondering over all minds in India.They are always blinking in the bengal dairy for their great hand towards bengal as well as India. Following are some letters about some famous personalities of west bengal.


Words about Swami Vivekananda


The great disciple of 19th century religious legend Sri Ramakrishna paramahamsa and the founder of Ramakrishna mission, Swami viveka nanda was born on 12th january 1863. Bengal presidency in calcutta is his native. He born as Narendranath dutta. He gave a great hand to the introduction of Hindu philosophies of vedanta and yoga. Swami Vivekananda is incredible for his excellent speech introducting "sisters and brothers of America". Swami's parents influenced his ideas by their rational mind and religious quality. He was not just actively involved in writing and speeching, but also was a great singer and composed several songs. A great attraction towards spirituality and God realization was shown from his childhood. He compiled a number of books on the four Yogas, namely Raja Yoga, Karma Yoga, Bhakti Yoga and Jnana Yoga. In his native Vivekananda is regarded as the patriot saint of modern India and an inspirer of his dormant national consciousness. It is devoted to the propagation of the Hindu spiritual culture not only in the Swami's native land, but also in America and in other parts of the world.In 1893, Swami Vivekananda went to America to attend the Conference of World Religions in Chicago. Margaret Nivedita was one of his disciple. Swami Vivekananda returned to India in 1897 after four years of touring in the West. He started spreading the message of spiritual development among Indians.

Swami vivekananda took his last breath on July4, 1902 at Belur Mutt on the bank of ganga.



Words about Sri Aurobindo ghosh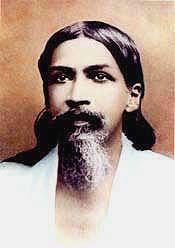 Sri Aurobindo was born of Sri Krishnadhan and Swamalata on Thursday, the 15th August, 1871, at about 5 a.m.was an Indian nationalist, freedom fighter, philosopher, yogi, guru, and poet.He passed the Indian Civil Service Examination with great credit in 1890. Aurobindo became a veritable god and by them he was called as Aru Da, meaning elder brother Aurobindo. Aurobindo married Mrinalini Devi.Aurobindo spent thirteen years, from 1893 to 1906, in the Baroda Service, first in the Revenue Department and in secretariat working for the Maharaja, afterwards as a Professor of English and, finally, Vice-Principal in the Baroda College. Main moto of Sri Aurobindo's vision is the evolution of human life into life divine. The political activity of Aurobindo covered only eight years, from 1902 to1910. During the first half of this period he worked behind the scenes, preparing with other co-workers the beginnings of the Swadeshi (Indian Nationalist) movement, till the agitation in Bengal furnished an opening for the public initiation of a more forward and direct political action. Sri Aurobindo began his Yoga in 1904. He had no helper or Guru in Yoga till he met Lele, a Maharashtrian Yogi in Baroda; and that was only for a short time. Meditating only for three days with Lele, Aurobindo followed the Yogi's instructions for silencing the mind and freeing it from the constant pressure of thought. His principal philosophical writings are The Life Divine and The Synthesis of Yoga, while his principal poetic work is Savitri: A Legend and a Symbol. In 1914 after four years of silent Yoga he began the publication of a philosophical monthly, the Arya. His other publications are Essays on Gita, Ideal and Progress, Isa Upanishad, The Superman, Evolution, Heraclitus, The Ideal of the Karmayogin, The Brain of India, the Renaissance in India, Bases of Yoga, Kalidasa, Vikramorvasi or The Hero and the Nymph, Poems, The Riddle of This World, etc.

His soul left his body on December 5, 1950. The Mother carried on his work until November 17, 1973 and the work they had continues even today.



Words about Subhas Chandra Bose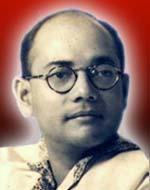 Popularly known as Netaji literally "Respected Leader", Born on January 23, 1897 in Cuttack, Orissa, to a successful lawyer Jankinath Bose and his wife Prabhavati.Bose Passed Indian Civil Services Exam; elected Congress President in 1938 and 1939; formed a new party All India Forward block; organized Azad Hind Fauj to overthrow British Empire from India. Right from his childhood he was a bright student and was a topper in the matriculation examination from the whole of Calcutta province. He graduated from the Scottish Church College in Calcutta with a First Class degree in Philosophy.Netaji was influenced more by Lokmanya Tilak and Sri Aurobindo. He did not agree with Gandhiji's methods of achieving Independence through non-violence. Rana Pratap and Shivaji were Netaji's idols and he believed that the only way to liberate his people was by shedding blood. Subhas Chandra Bose was jailed during Civil Disobedience movement in 1930. He was released in 1931 after Gandhi-Irwin pact was signed.At the time of World War II, the British were in a tight spot due to the pressure from Hitler. Netaji was under detention in Calcutta at that time, and decided to take advantage of the situation. Dressed as a Pathan, he escaped to Peshawar and then moved on to Kabul and Moscow. Next was Germany. Subash Chandra Bose was soon arrested again under the infamous Bengal Regulation. After a year he was released on medical grounds and was banished from India to Europe. he was elected as the President of the Haripura Congress Session. He took a very stern decision and brought a resolution and asked Britishers to hand India over to the Indians within six months. In 1941, Netaji went to Japan and formed the I.N.A. in 1943. 1945 witnessed the I.N.A(Indian national army) waging a war from the North - West of our country. He inspired his army with the battle cry 'Delhi Chalo'.

On August 17, 1945, Bose died in a plane crash while flying from Bangkok to Tokyo. He did not live to see the Indian Independence, but his spirit still lives through his words -JAI HIND.




Words about Mother Teresa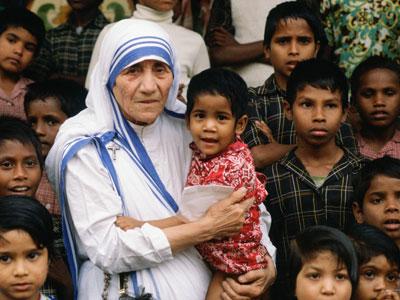 The great servants of humanity Mother teresa born on August 26, 1910. An impressive introduction about herself is By blood, I am Albanian. By citizenship, an Indian. By faith, I am a Catholic nun. As own calling, belong to the world. As to heart, belong entirely to the Heart of Jesus. She Started Missionaries of Charity in 1950; received Nobel Prize for Peace in 1979; received Bharat Ratna in 1980. She was internationally famed as a humanitarian and advocate for the poor and helpless by the 1970s. Mother Teresa's original name was Agnes Gonxha Bojaxhiu. Her father was a successful merchant. To be a missionary and spreading the love of Christ was started at the age of 12 and at the age of 18 she left her parents with joining Institute of the Blessed Virgin Mary known as the Sisters of Loreto, an Irish community of nuns with missions in India. She departed for India, arriving in Calcutta on 6 January 1929.On 24 May 1937, Sister Teresa made her Final Profession of Vows, becoming as she said, the spouse of Jesus for all eternity. She has been praised by many individuals, governments and organizations; however, she has also faced a diverse range of criticism. She started an open-air school for homeless children.On October 7, 1950, Mother Teresa received permission from the Vatican, originally labeled the order as the Diocesan Congregation of the Calcutta Diocese, and it later came to known as the "Missionaries of Charity". Mother founded the Missionaries of Charity Brothers in 1963, in 1976 the contemplative branch of the Sisters, in 1979 the Contemplative Brothers, and in 1984 the Missionaries of Charity Fathers. Mother Teresa's achivements including the Pope John XXIII Peace Prize (1971), Nehru Prize for Promotion of International Peace & Understanding (1972), Balzan Prize (1978), Nobel Peace Prize (1979) and Bharat Ratna (1980).

By 1997, Mother Teresa's Sisters numbered nearly 4,000 members and were established in 610 foundations in 123 countries of the world.
On September 5, 1997 Mother teresa died just 9 days after her 87th birthday.



Words about Rabindranath Tagore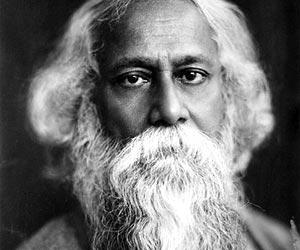 Greatest writer in modern Indian literature, Bengali poet, novelist, educator, and an early advocate of Independence for India, Rabindranath tagore born on 7th may, 1861 at Jorasanko(Tagore House,)Calcutta into a wealthy and prominent family. His father was Maharishi Debendranath Tagore and mother Sarada Devi, died when Tagore was very young. Calcutta Medical College is one of his helpfull public project. As a patriot, he composed the music and lyrics for India's national anthem "Jana-Gana-Mana"[Thou Art the Ruler of All Minds]. when Bangladesh became independent in 1971 they chose Tagore's song Amar Sonar Bangla[My Golden Bengal] as its national anthem. In My Reminiscences Tagore mentions that it was not until the age of ten when he started to use socks and shoes and servants beat the children regularly. Tagore's life and works have made him a cultural icon, studied the world over even into the 21st Century. Tagore, the youngest, started to compose poems at the age of eight. Tagore's first book, a collection of poems, appeared when he was 17; it was published by Tagore's friend who wanted to surprise him. In England Tagore started to compose the poem 'Bhagna Hridaj' (a broken heart). At the age of twenty-two, on 9 December 1883, Tagore married Bhabatarini, with whom he would have five children; daughters Madhurilata (1886-1918), Rathindra (b.1888), Renuka (1890-1904), Mira (b.1892), and son Samindranath (1894-1907).Between 1893 and 1900 he wrote seven volumes of poetry, including SONAR TARI (The Golden Boat), 1894 and KHANIKA, 1900.The next period of Tagore's life involved his founding of the school Shantiniketan (now known as Visva-Bharati University) in 1901. Tagore was the first Indian to bring an element of psychological realism to his novels. Between 1891 and 1895 he published forty-four short stories in Bengali periodical, most of them in the monthly journal Sadhana. When Tagore's wife died just one year after its founding he wrote the poems in Smaran [In Memoriam]. Other works written or published during this period were; Katha O Kahini (1900) [Tales and Stories], Naivedya (poetry, 1901), Raja (play, 1910) [The King of the Dark Chamber], Dak-ghar (1912) [The Post Office], The Crescent Moon (1913), Gitimalya (1914) [Wreath of Songs], Songs of Kabîr (1915), Stray Birda (1916), Sadhana: The Realisation of Life (1916), and Balaka (1916) [The Flight of Cranes], and the poems "Fruit-Gathering" (1916), "The Fugitive". (1921) and "The Gardener"(1915). Tagore's reputation as a writer was established in the United States and in England after the publication of GITANJALI: SONG OFFERINGS, about divine and human love. The poems were translated into English by the author himself. In 1921 Tagore and agricultural economist Leonard Elmhirst founded the Institute for Rural Reconstruction, "Shriniketan" [Abode of Peace], near Santiniketan.


Tagore remained a well-known and popular author in the West until the end of the 1920s, but nowadays he is not so much read. Tagore died on 7 August 1941 at the family estate Jorasanko, where he had been born.