How to get a Driving License in West Bengal, Kolkata

If you are looking for the procedures to obtain a driver's license from government of India, in West Bengal Kolkata or some other state you can find all the necessary details in this articles from the necessary documents to the forms, fees and procedures. The whole process from learner's license to permanent driving license is explained below in detail. Go through it and get all the information you need.


In order to be eligible to drive motor driven vehicles in any non-personal places and roads one requires a Driver's license. This license is a proof that Government of India has authorized the corresponding person to drive the type of vehicle mentioned. A driving license obtained in West Bengal or anywhere in India is valid throughout India and the bearer of the license is permitted to drive on any road of India. Driving license is a must for persons who intend to drive motorcycles, cars or any other vehicles. Driving in public places or streets without a driving license is a punishable offense under the penal code of India. There are certain procedure to obtain a driver's license. It is not merely a permit to drive but is also an important document which proves your age, address and other identification criteria. If you want to know how to get a driving license in Kolkata or West Bengal then go through this article and you'll find out exactly what you need to do to get your hands on one.

First of all you need to know there are two phases in obtaining a driver's license

1. The learner's license. This is a license issued to candidates to learn driving. There are fixed rules to be followed while learning driving with a driver's license. This license is issued for 6 months.

2. The actual driver's license. This provides the eligibility of driving throughout India as we have discussed before.


Eligibility Criteria for Driving license

1. Upto 50CC engines and no-gear motorcycles the age eligibility is minimum 16 years. Parent's consent is required in this case.

2.Age eligibility for non-commercial motor vehicles is minimum 18 years.

3.Age eligibility for commercial motor vehicle license is minimum 20 years.

4.Traffic rules and regulations should be known to the candidate.


Required documents to get driving license
Documents for learner's license

1.Standard residence proof -- this includes bit is not limited to attested copy of passport, voter id card(EPIC), ration card, parent's residence proof with consent, pay slip of central or state government etc.

2.Standard age proof -- These include but are not limited to attested copy of passport, birth certificate, PAN card, EPIC voter id card etc.

It should be good to remember that after you obtain your driving license it will serve as both age and address proof for you.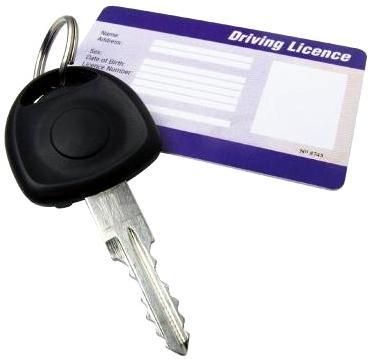 Documents for permanent license

-Learner's license
-Properly filled up for 4
-form 5 in case of application for commercial license
-one photograph(recent, apssport size)
-Age and address proof(orginals along with attested copies)

Do not forget to take a vehicle of the category you are applying for.


Forms and fees to apply for driving license in West Bengal
Forms

Form 2: Learner's license application.
Form 1 A: Medical certificate.
Form 3: Application for learner's license with photograph.
Form 1: Medical fitness.
Form 4: Driving license.
Form 5: Commercial license.


Fees

For application for license in three categories -- 440 rs.

For application for license in two categories -- 360 rs.

For application for license in one category -- 280 rs.

However the fee for the photographed license card has to be payed extra when applying for the actual driving license.


Procedure to get a driving license

For learner's license
Verification of procured documents followed by a colour blindness inspection and finally a learner's test.

For permanent driving license
Verification of documents followed by a driving test. The applicant has to bring a vehicle of the category applied for. In the test the motor vehicle inspector tests driving skills, awareness of traffic rules and regulations, knwoledge about vehicle system and safety and familiarisation with the category of the motor vehicle applied for.