Dakshineswar Kali Temple, Bishnupur, West Bengal

Bishnupur is very famous for its pilgrimage decoration. Many holy temples attracts a lot of devotees providing many religious structures here. Dakshineswar Kali temple is one of the best place for tourist destination. To know about this temple get below.


Dakshineswar Kali Temple is a Hindu temple was built in 1955 at the place named Dakshineswar near the city Kolkata. This famous temple is dedicated to the goddess Kali. Its other location includes eastern bank of the Hooghly River, north of Belur Math in Kolkata. This holy temple rushes mostly on auspicipous days like Tuesdays and saturdays in the morning and evening.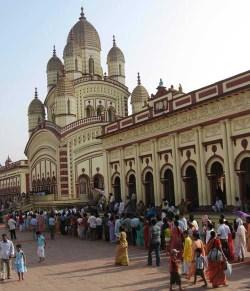 Queen Rasmani of Janbazar, a philanthropist and a great devotee of Kali established this Dakshineswar Temple. Tourists most visit this temple as its association with Ramakrishna paramhansa a mystic of 19th Century. Ramakrishna's elder brother Ramkumar was the first priest of this temple. With him Ramakrishna also gave his great hand to the temple and took the charge of the temple. He was a great devotee of Lord Kali.

This temple is very spacious covering an area of 25 acres. The beauty construction of this temple consists 12 temples of Lord Shiva besides the main Kali temple and a Shiva lingam right opposite to the main Kali temple. A huge queue of devotees also stands always in the gigantic Laxmi narayan temple near the Kali temple. Other scenery inside this temple includes a temple to Radha-Krishna, a bathing ghat on the river and a shrine dedicated to Rani Rashmoni. Inside the temple, there is a room of Ramakrishna including a bed which he which used.

Tourist can reached here by local trains and buses from tthe nearest Dum Dum matro station. In the sacred day for Lord Kali 'Amabasya', and on the day of Kali puja lakhs of people gathers here for worshiping. This 100ft. high mystic temple is a great religious site for visitors.