Parno Mitro biography and career profile, Bengali actress in Ranjana Ami Ar Ashbo Na

Learn about the Ranjana Ami Ar Asbo Na (2011) actress Parno Mitro. Read her complete biography, career profile and contact information.


What can this film be called? A constellation of music maestros? Well, it is definitely not easy to hold your nerves and act naturally when you have four legends of music working with you in a film. Anjan Dutta's new production Ranjana Ami Ar Asbo Na Bengali movie alias RAAAN, a Bengali movie to be released on Friday, 24th June, 2011, is going to have the famous singer cum ex-MP Kabir Suman, singer cum film director cum actor Anjan Dutta, the legendary guitarists Amyt Datta and Lew Hilt, as well as the noted drummer Nondon Bagchi. And all are quite aged. This is exactly why Parno Mitra has really won the hearts of the film critiques because she has looked too natural and spontaneous even against these big names on the screen. While already a familiar name to the world of modelling, television serials and film criticism, Parno Mitra is not perhaps still a much known name to the general Bengali film audience. Nevertheless, with the excellence of acting by Parno Mitra as Ranjana in Ranjana Ami Ar Asbo Na, we can expect that soon she will be popular among the common viewers.

Here we have provided some information about Parno Mitra, including her biography and career profile details. If you know something more about her, please feel free to add the information to this Parno Mitra wiki article by posting it as a response below (our registration process is free and takes only a minute).


Biography and profile of Parno Mitra, Bengali actress
Parno Mitra age - 23 years


Parno Mitra College Education - She studies in St. Xaviers College Kolkata.


Parno Mitra's favourite actress - She has many idols, among whom Megan Fox and Selena Gomez can be named.


Hobby of Parno Mitra - Listening to Bengali folk songs (Bangla lokgiti) and Rabindra Sangeet. She is also fond of Najrul giti.


Parno Mitra boyfriend - Well, that's a secret!


Parno Mitra Facebook profile -
Parno Mitra acting film career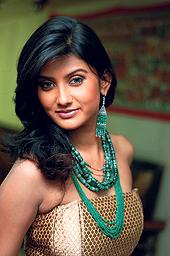 "I am on the Seventh Heaven, I am flying high" - this was just how Parno Mitra described her experience about working with Anjan Dutta in Ranjana Ami Ar Asbo Na. In fact she never expected to be offered the lead role of the film. Ranjana Ami Ar Ashbo Na is the debut of Parno Mitra in a full length feature film; however she had previous experiences of working with Anjan Dutta in a tele-film. In fact Anjan Dutta's son Neil Dutta is a good friend of Parno and that had helped her greatly to mark the auspicious beginning of Parno Mitra film career.

Previously Parno Mitra was known to the Bengali TV watchers for playing the lead role in the Bengali TV serial Mohona in Zee Bangla. She had also enacted in a small role in a Bollywood film Ghat and played the role of a widow in the Bengali soap in Zee Bangla, Khela. However, playing the character of Mohona, the fun loving bubbly Kolkata girl, has won her most of his reputation. She is also a good dancer, and has been trained in Mamata Shankar's ballet troupe for a year.

Parno Mitra next upcoming film is going to be Bedroom, a direction by Mainak Bhaumik, on which she is already working. In that film she will share a space with Tanushree Chakraborty, Abir Chatterjee, Paoli Dam, Rahul, Rudranil Ghosh and Ushasie Chakraborty, and will portray a role of a unhappy woman perpetually disturbing others with her incessant whims and complaints.