Himalayan Mountaineering Institute, Darjeeling

The establishment of Himalayan Mountaineering Institute had got its building influence by Late Tenzing Norgay and Sir Edmund Hillary, the mountaineering after the successful ascent of Mount Everest. The management and organisation system of this Institute made for encouraging in trek amongst mountaineering enthuasists.


Origin of HMI

The Himalayan Mountaineering Institute with other name HMI was established on November 4, 1954 to trains young men not only to climb Himalayan peaks but also creat in them an urge to climb peaks of human Endeavour. This Institute was first established with the clear intension to form mountaineering as an Organised sport in India. The prime Minister, Pandit Jawaharlal Nehru laying foundation Stone of the Himalayan Mountaineering Institute. The total elevation of this institute is approximately 2100m.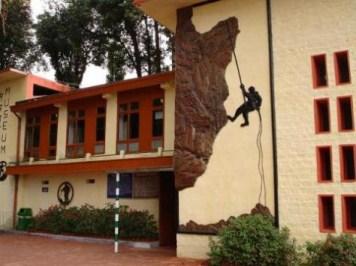 Late Maj N. D. Jayal and Tenzing Norgay was the first principal and director of field training of Himalayan Mountaineering Institute. Initially the institute was started at Roy Villa which was the house of sister Nivedita and later on it was shifted to present location on the western Spur of Brich hill in 1958 which is also known as Jawahar Parbat. Arnold Glatthard, the principal of Swiss Mountaineering School came to Darjeeling for the purpose of Swiss Foundation for Alpine Research for HMI. The third highest peak of the world, kanchanjunga( 8589M high ) has a magnificent view from this Institute.


Management and Organisation of Himalayan Mountaineering Institute, Darjeeling

The Himalayan Mountaineering Institute is a autonomous Institute patronized both by Govt. of India and Govt. of West Bengal. This Institute is goverened by an Executive Council (EC) headed by Hon'ble Minister of Defence who is the president of HMI with Hon'ble Chief Minister of West Bengal as its Vice president. A well organised management system run the Institute properly from the begining.

HMI became a best tourist place in Darjeeling. Basically this Institute has three primary wings known as Training wing, Adminstrative wing, and Museum. The Vice principal leads the Training team with one Deputy Director of field Training, an Advisor of field training and few instructional staffs. The Admisrative wing consists of Admistration, Equipement, Hostel, Record and Account. Similarly the Museum wing has two museum namely Mountaineering and Everest museum.


Courses offered by Himalayan Mountaineering Institute, Darjeeling

The Himalayan Mountaineering Institute offers courses like basic Mountaineering course of 28 days, Advanced Mountaineering course of 28 days, Method of Instruction of 28 days, and Advebtured course for 15 days. Among these some special courses on actual cost includes sport climbing, Rock climbing, Adventure also provide by HMI. In this way trainees can get their best theoritical as well as practical mountaineering techniques. The above basic courses are organised 6 times ina year including March-April-May, September-October, October-November and November-December. The May course is reserved for women only.

As the Himalayan Mountaineerin Institute has two Museums. The Main Museum cotains a physical model of various coloured shdes of Himalaya. Indian Mountaineering Foundation contibuted many exhibition and photographs for setting up this museum. It has a well spreaded library cosists of 2500 books based on principally Mountaineering, geology, astronomy and more. The Institute remains open from 9 a.m to 5 p.m.

Bagdogra Airport is the nearest Airport from this Institute. It is located only 87 kms away from HMI. More over regular bus and taxis are avaiable from Bagdogra, New Jalpaiguri and Siliguri. At 90 kms away the nearest railhead is available at New Jalpaiguri.


Address of Himalayan Mountaineering Institute, Darjeeling

Himalayan Mountaineering Institute,
Jawahar Parbat,
Darjeeling - 734101,
West Bengal (India).
Telephone ISD / STD CODE - 00 - 91 - 354
Tel : 2254083, 2254087.
Fax : 2253760