Ekbar bol nei tor keu nei song from Baishe Srabon Bengali movie touches heart

"Ekbar bol nei tor keu nei" song by Anupam Roy from the upcoming Bengali movie in 2011, Baishey Shrabon, seems to be another blockbuster Bengali song due to its touching lyrics pretty soon. Learn more about the Bengali song lyrics "Jekhane shurur kotha" from Baishe Srabon Bengali film.


Ekbar bol nei tor keu nei song lyrics from Bengali film Baishe Srabon is expected to yet another blockbuster upcoming Bengali song in 2011 from the emerging off the track song writer, composer and singer Anupam Roy, the composer and singer of the Bengali movie Autograph songs. Anupam Roy is noted for his freestyle singing coupled with a touch of passion in the lyrics that hovers on the edges of sentimentalism, that have clicked enormously for him, and have made almost all of Anupam Roy Bengali film songs simply smash hits. As we watch the Ekbar bol nei tor keu nei song full video from Bengali movie Baise Srabon, several questions seem to queue up. The policeman, Prasenjit, has lost her son to the mafia in Kolkata and the ending is really painful. This is a reality; the question is, when will such real cases come to a complete end? The problem of Parambrata on the other hands seems to be an eternal one as he loses his girl Raima Sen to Abir Chatterjee.


Ekbar bol nei tor keu nei song lyrics (Baishe Srabon Bengali movie 2011)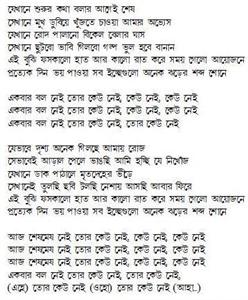 The special effects in the Bengali song Ekbar Bol Nei Tor Keu Nei is simply outstanding. The visuals are, in a word, spectacular, and will take you just to the right level of sensation and create the right aura of feeling that the director Srijit Mukherji wants you to be in. Though the latest Bengali film in 2011, Chaplin, has claimed to be an unmatched Bengali film, Baishe Srabon Bengali film songs 2011 will definitely pose a tough challenge within few weeks.

The writer / composer of Ekbar Bol Tor Keu Nei Bengali song Anupam Roy hopes this song will surpass the fames of his previous creations. This is the second song of the film. Ekbar bol nei tor keu nei video on YouTube has been released by Shree Venkatesh Films, the makers of the upcoming Bengali film Baishe Srabon.

Image source: own work. All rights reserved