Biography of Ankita Das, Bengal table tennis player in London Olympics 2012

Bengal's table tennis player Ankita Das is the only female TT player for India in London Olympics 2012. Read this Ankita Das wiki biography to know more about her personal life, sports career statistics, contact profile and so on.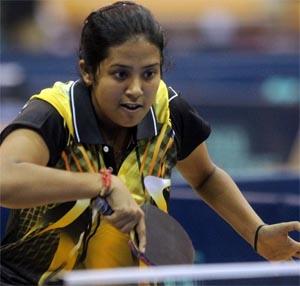 Ankita Das, table tennis player from Shiliguri, West Bengal, is the only female table tennis player to fly for London Olympics 2012 from India. While Bengal's well known TT player Poulomi Ghatak failed to qualify for the London Olympics, Ankita Das kept the flag of Bengal flying high. Ankita defeated K Samimi in a 4-8 game in the qualifying round yesterday in Hong Kong, thereby ensuring her ticket from the South Asian group. What the ex national champion Mantu Ghosh, the table tennis coach of Ankita Das, could not achieve in her sports career, Ankita Das did that successfully. She herself called her coach to deliver the good news from Hong Kong. Earlier, Bengal's seasoned table tennis player Poulomi Ghatak competed in the Sidney Olympics.

Have a look at this wiki biography of Ankita Das to know how she spent her childhood, and how she trained hard to achieve this success. Keep reading!


Bio Data of Ankita Das: Family background and personal information

The North Bengal has delivered the nation a number of talented table tennis players like Mantu Ghosh, and Ankita is the latest addition to the list. The hometown of Ankita Das is Rabindra Nagar of Siliguri. The date of birth of Ankita Das is 17th July, 1993. Ankita's father, Mr. Asim Kumar Das, is a Group C field staff in the Tista project. This reveals the family background of Ankita Das and reinstates the Indian tradition of sports talents coming up from lower middle class families. Her mother is Sangeeta Das. Ankita Das has no brother or sister. The only child of her parents, Ankita Das is good in her studies too. At present she is studying B.A. (second year) in the Siliguri College. Recently, Ankita Das has got a job in a nationalized petroleum company as well.


Sports Career of Ankita Das: Table Tennis is in her blood

There was no relation with sports in the family of Ankita Das until 15 years back, Mr Das decided to put her four and half year old daughter in table tennis. The little girl who toddled to the table tennis coaching in Siliguri is now a star in the locality. As she kept performing brilliantly, the TT career of Ankita Das gradually rose to today's success. The current age of Ankita Das is just 19, but within this short period of time she has achieved a lot of things in her life. Given below is the table tennis career of Ankita Das at a glance.



At present Ankita Das plays table tennis in the YMA Club, Siliguri. The first coach of Ankita Das was Mr. Amit Dam, who nurtured her from her childhood. At present she is training under Mrs. Mantu Ghosh, ex national champion, and Shubroto Roy. The table tennis life of Ankita Das really took a turn as she began training under Mantu Ghosh.


State and National Level performances and awards of Ankita Das
2003 - Ajmer Cadet girls singles table tennis - 2 gold medals
2004 - Chennai Cadet girls singles table tennis - Gold medal
2004 - Chennai cadet girls, doubles table tennis - Gold medal
2005 - Pondicherry Sub Junior girls singles - gold medal
2005 - Shillong Junior girls team table tennis - gold medal
2005 - Senior National Jaipur Women's team - Silver Medal
2006 - Kerala Sub Junior Girls singles - 3 gold medals
2006 - Cuttack Junior Girls Doubles - silver medal
2006 - Senior National Ajmer Women's team - Bronze medal
2007 - National level Indore Junior Girls Singles - Gold medal
2007 - Siliguri Women's National Team table tennis - silver medal
2008 - 70th Junior National Girls Singles - gold medal
2009 - Youth Girls singles silver medal, Junior Girls bronze medal, Junior Gilrs doubles in 71st Junior National at Raipure, bronze medal
International performances and awards of Ankita Das, table tennis player
2006 - WJC China Cadet Girls Singles - Runner Up
2007 - WJC Canada Cadet Girls Singles - gold medal
2007 - Cape Town, South Africa Cadet Girls, Asian Team - Gold
2006 - World Junior Circuit - Gold in team event, quarter finalist in singles
2006 - Japan Junior Asian Cadet - participation
2007 - China, WJC, girls singles runner up
2007 - Poland PY Open Cadet Girls - pre quarter
2007 - New Zealand, WC Cadet Girls - gold
2007 - Korea 12th Asian Under 15 - Bronze
2007 - Goa Open India Cadet Girls - Silver
2008 - US Open Junior Girls - Bronze
India representation in 2009 Kuwait Open and Qatar Open
India representation in 2009 in 15th Asian Junior Table Tennis Championship, Jaipur
India representation in 2009 in Taiyuan Open, China
India representation in 2009 English Open, Sheffield, England
Ankita Das contact profile: Address, phone number, social networking profiles
Permanent contact / postal address - Ankita Das, C/O Asim Kumar Das, Rabindra Nagar, Siliguri, Darjeeling district.
Telephone number of Ankita Das - 09478-7816
Mobile number of Ankita Das - +91 98325 29375
Ankita Das Facebook profile - not available