Wiki Biography of Humayun Ahmed, noted Bangladeshi novelist

Humayun Ahmed, the noted Bangladeshi novelist, has passed away today. Read this obituary of Humayun Ahmed, wiki biography, his literary career, books and more. Discover unknown facets of the life of Humayun Ahmed. Keep reading!


Bangladeshi author Humayun Ahmed, a prominent figure in Bengali literature since 1970s, has passed away today, on 19th July, 2012. In this obituary of Humayun Ahmed, you can learn about his life, literary career, early personal life, awards and recognitions and so forth. In short, you can have a complete Humayun Ahmed biography here in a nutshell, without going into much details. Keep reading!


Family of Humayun Ahmed, personal life and marriages

Date of birth of Humayun Ahmed - 13 November, 1948.
Date of death of Humayun Ahmed - 19 July, 2012.





The life of Humayun Ahmed began at a rather remote town of present day Bangladesh (then East Pakistan) named Kutubpur, in the Netrokona district of Dhaka division. Take a quick glance at the family of Humayun Ahmed here.

Family members of Humayun Ahmed

Father of Humayun Ahmed — Janab Foyzur Rehman Ahmed, a police officer by profession. He also pursued writing in his spare time which seeded a love for literature in Humayun Ahmed in his very early life. Humayun's father was killed by the Pakistani military forces during the Liberation War of Bangladesh, in 1971.


Mother of Humayun Ahmed — Begum Ayesh Foyez.


Brothers of Humayun Ahmed — Mr. Ahsan Habib, a painter and editor of the cartoon magazine Unmaad, and Mr. Muhammad Zafar Iqbal, a university professor, newspaper columnist and science fiction writer.


Wife of Humayun Ahmed — He married twice. The first wife of Humayun Ahmed was Gultekin, the grand daughter of Principal Ibrahim Khan. The marriage of Humayun Ahmed and Gultekin took place in 1973, but the couple got divorced 30 years later, in 2003. At that old age, Mr. Ahmed married again, this time the bride being his daughter's friend. The second wife of Humayun Ahmed was Meher Afroz Shaon, a television actress, and friend of Shila, the daughter of Humayun Ahmed.
Early life of Humayun Ahmed and education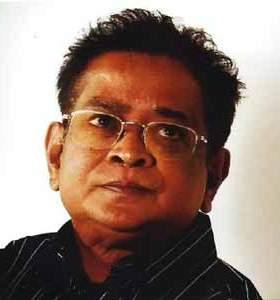 Since his father had a transferable job, the schooling of Humayun Ahmed was not done in any particular school. He studied at a number of places, including Sylhet, Comilla, Chittagong, Dinajpur and Bogra. However, he appeared at, and passed, the School Certificate Examination, from Bogra Zilla School, a reputed institution in the vicinity. Right from his early life, Humayun Ahmed was a meritorious student and he stood second in this examination in the Rajshahi Education Board. Next he moved to Dhaka College to clear the intermediate level. At an early stage, his ambition was to study economics. Later, however, he was attracted to chemistry and he enrolled himself in the Dhaka University for a successful pursuit of chemistry in both graduation and post graduation, both with first class marks.

The professional working career of Humayun Ahmed began as he joined Dhaka University as a lecturer of chemistry. He did his doctoral research from the North Dakota State University, United States, in polymer chemistry. In 1990, he retired from the Dhaka University to devote his entire time, effort and attention to the pursuit of literature and film making.


Literary works of Humayun Ahmed: Magic Realism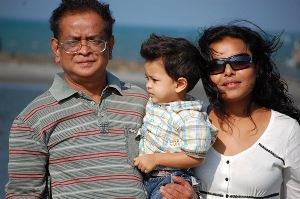 Humayun Ahmed started writing around the 1970s and soon became a distinctive writer in the stylistic genre of magic realism. In the 1980s, he was one of the most popular novelists in Bangladesh. He also gained fame among the Bengali novel readers outside Bangladesh, like in West Bengal and the Bengali diaspora community outside the Indian subcontinent. The first novel of Humayun Ahmed came out in 1972, entitled Nonditor Noroke. He was a Bangla Academy best seller author.


Humayun Ahmed films and television productions

The first television drama of Humayun Ahmed was Ei Sob Din Ratri, which shot him to fame overnight. His next productions included the comedy drama series entitled Bohubrihi, a drama series based on history called Ayomoy, and the picture of modern urban life, Kothao Keu Nei. Humayun Ahmed is also remembered for his epic television serial, Nakkhatrer Raat.

The films of Humayun Ahmed came out of his own life. The first film by Humayun Ahmed was Aguner Paroshmoni which was based on his first hand experience of the Liberation War of Bangladesh of 1971. Humayun Ahmed's Aguner Paroshmoni brought him the National Film Award in eight categories, including directions. Another film by Humayun Ahmed, Shaymal Chhaya, was nominated for the Oscar in the Best Foreign Language Film category, which was also based on the Liberation War.


Awards received by Humayun Ahmed and other recognitions

Lekhak Shibir Prize in 1973, Bangla Academy Award in 1981, Shishu Academy Award, Jainul Abedin Gold Medal, Michael Madhusudan Medal in 1987, Bacsas Prize in 1988, Humayun Qadir Memorial Prize in 1990, National Film Award in 1993, 1994, and 1994, Ekushe Podok in 1994 and ShellTec Award in 2007.