Pujabarshiki Anandamela 1419 (2012): Bengali Puja Special Magazine

Pujabarshiki Anandamela 1419 is a popular Bengali Puja Special Magazine for children. Explore the different sections of the Bengali Puja Special Magazine in this article. Find short description of stories, comics, and novels, short and big story published in Pujabarshiki Anandamela 1419. Also find name of publisher and editor of Pujabarshiki Anandamela 1419.


Pujabarshiki Anandamela released for the Bengali Year 1419 i.e. 2012. Like every year story book lovers waiting for the release of Puja special magazines. Puja special Pujabarshiki Anandamela 2012 also comes with a bunch of novels, big stories, short stories, comics, short articles on science, updates about Sports, History etc. The price of Puja special Anandamela is 100 INR (air fare 20 INR). You can find a preview of various sections of new Bengali Puja Magazine Anandamela in this article.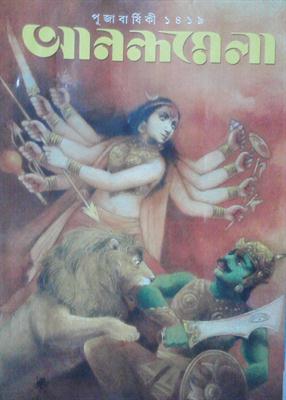 Preview of Novels Section of Pujabarsiki Anandamela 2012

The novel (section of Anandamela includes famous Bengali writes like Sunil Ganguly, Sirshendu Mukherjee, Suchitra Bhattacharjee, Sukanta Ganguly, Rajesh Basu and Paramita Ghosh Majumder.

Golokdhadai Kakababu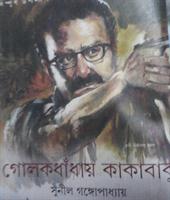 This is a Kakababu series detective-thriller story from Sunil Ganguly. The story includes a person who knows languages of dogs. He claims that another person wants to kill Kakababu and hire him for doing that. He is hire to train and kill Kakababu though dogs. The interesting story also includes famous Kakababu series characters like Deblina, Santu and Jojo.

Modan Tapader er Bakso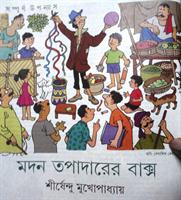 It is a typical multi character shirshendu novel. The original flavor of multi character novel of shirshendu is in the story. It also includes talking ghost. You can say - it is a sci-fi story with Bengali village life culture. The mystery in the story is in the box of a poor magician Madan Tapader. What is there in the box? You have to read the full story to know that.

Anandamela 2012 novels also include 'Marquis Street Mritufad' by Suchitra Bhattacharjee. The story has young leady detective Mitin and her cousin Tupur. They are going to solve a mystery in a house and a family in Marquas Street at Kolkata.

The Novel section also has three detective stories 'Chena cheharai ochena manush' by Sukanta Ganguly, 'Rohosyer Sandhane' by Rajesh Basu and 'Rabangla Sambhab' by Paromita Ghosh Majumder.


Preview of Comics Section of Pujabarsiki Anandamela 2012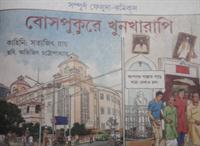 Comics section includes famous Bengali detective character 'Feluda' written by Satyajit Roy. This year the story is 'Boshpukure Khunkharapi'.
The detective comics accompanied with a comedy 'Chikitsa Sankat' by Parasuraam. This comic is full of fun.


Preview of Big & Small Story Section of Pujabarsiki Anandamela 2012

There is only one big and six small stories this year. The big story 'Jadavbabu Mithee Bolen Na' is a Social drama. This story includes the life of Jadubabu and an incident of talking lie which makes an impact in his life.

The short story 'Chor Puliser Chora Kotha' is also a interesting one. The story based on a rabindrajayanti celebration in a Police Station. The news comes only a day before the occasion. Now, how police arrange and organize the show within the short time that is the main fact of the story. Other short stories in the section are Alice, Pagol Padri, Buchki Bahini, Shikari Duttar Sangrahasala and Chorer Bari. The short story section is a bunch of comedy, suspense and excitement.


Preview of Science Article Section of Pujabarsiki Anandamela 2012

'Kothakar jol kothai Darai' and 'Paromanur Andormahole' are two different science related article written by Judhajit Dasgupta and Bedduti Chakraborty respectively. The simple presentation of the article makes it easy to understand to the young readers.

There is also a miscellaneous section 'Tak Jhal Misti' with various types of short article. The history section discloses the history of coins and civil engineering technique of Abu Symble Temple. Last but not the least the sport section of Pujabarsiki Anandamela 2012 is also an attractive one. It includes article about Goutam Gambhir describing him as a future captain of India, world tennis star Jokovich, Birat Kohli the rising star, world champion Viswanathan Anand and first Indian leady boxer merry.

Publisher of Pujabarsiki Anandamela 2012 is ABP Pvt Ltd
Editor of Pujabarsiki Anandamela 2012 is Poulomi Sengupta

The Bengali Puja Special Magazine Pujabarsiki Anandamela 1419 is now available in the market. Book your copy from nearest book store before it got finished.