Biography of Kamalini Mukherji (Mukhopadhyay), Rabindra Sangeet singer

Want to know about Kamalini Mukherji, one of the best new generation Rabindra Sangeet singers? Read about her in this Kamalini Mukherji wiki biography here, including her musical career, achievements, and contact information.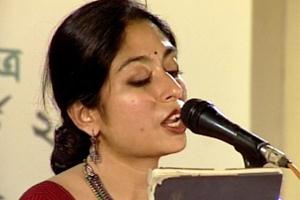 Disambiguation: This is a wiki biography of Kamalini Mukherji, Rabindra Sangeet singer, and not the actress Kamalinee Mukherjee who works predominantly in the South Indian film industry.

Among the new generation Rabindra Sangeet singers, Kamalini Mukherjee is considered the best talented female singer. She is most widely appreciated for her distinctive style, coupled with a clear articulation which in turn expresses a deep semantic understanding. She is also a brilliant student of English literature, and has pursued her Masters from Cambridge. Here in Kamalini Mukherji biography, we will tell you more about the the educational qualification of Kamalini Mukherji, musical career and achievements, personal life, and contact information. Keep reading!


Bio data of Kamalini Mukherji, Tara Muzik fame Rabindrasangeet singer

Early life: Kamalini Mukhopadhyay was born and brought up in a traditional Bengali of Kolkata. In her household, music was not just a hobby or pastime. It was a way of life. Kamalini was thus exposed to a wide variety of music and assimilated into herself the best of every genre. Ever since her formative years in the music industry, she has fostered a deep respect of passion for the works of Tagore. She is also often appreciated for her clear and perfect pronunciation. Originally a resident of South Calcutta, Kamalini has to shift between India and the United States.

Educational Qualification: Kamalini Mukherji has been a distinguished student all through. Her schooling was done in South Point High School, a premier institution of Kolkata. She was a student of English Honours in the Jadavpur University (undergraduate), and later did her post graduation in English literature from the University of Cambridge in United Kingdom.

Musical qualification: Kamalini Mukherji received full fledged training in Rabindra Sangeet right from a tender age of ten at Dakshinee, one of best schools to learn Rabindra Sangeet in Kolkata. In 1998, she graduated with a distinction in Rabindra Sangeet from the same institution, and was awarded the Dakshinee Puraskar in 2001. Dakshinee Puraskar is esteemed as a great recognition of young Rabindra Sangeet talents in Kolkata, nay all over Bengal.


Kamalini Mukherji's musical career, achievements & awards

Kamalini Mukhopadhyay is a very popular face in television channels and stages. Popular TV shows of Kamalini Mukherji included channels like Tara Music, Zee Bangla, 24 Ghanta, ETV Bangla, as well as some TV channels in Bangladesh. Recently, she also visited Mauritius for the propagation of Rabindra Sangeet on an UNESCO initiative in collaboration with the Government of Mauritius. She was also a regular face for a couple of years in the Tara Muzik Chirantani, an exclusive programme on Tagore's songs. She was also a playback singer for a Sandip Ray feature film, Nishi Japon (2006), and a Nitish Mukherjee documentary on the famous sculptor Ramkinkar Baij. Kamalini Mukherji has also performed for Doordarshan and Aakashvani, the Government of India television and radio channels respectively. She has also scripted and enacted in a number of musical dramas.

Achievements & Awards: Kamalini Mukherji was nominated for the Zee Bangla Gaurav Awards in the Best Female Singer (Music) category for her solo Rabindra Sangeet album Bandho Bhangar Chhando in September 2012. In March 2011, she was also featured in the popular Bengali magazine Anandalok. Also, as we mentioned above, she was awarded the Dakshinee Puroskar back in 2001.


Popular songs & music albums of Kamalini Mukherji, Rabindra Sangeet artist

Here is a brief list of some of the popular songs and music albums of Kamalini Mukherji that shows her wide range of artistry from all sub-genres of Rabindra Sangeet.

Brishti Ashe: Published by Sa Re Ga Ma studio, Kamalini Mukherji's solo Rabindra Sangeet album Brishti Ashe contains 10 songs. The songs included are Oi je jhorer megher kole, Amare jodi jagale aji, Ashar kotha hote aaj, Aji jharer raate, Ami takhon chilem magan, Emono dine taare bola jaay, Jharo jharo barishe baari dhara, Amar din furalo, Swapne amar mone holo, and Kotha je udhao holo. Music direction by Shantanu Basu. The price of Brishti Ase music album by Kamalini Mukhopadhyay is Rs. 125/-.

Bandho Bhangar Chhando: Kamalini Mukherjee's award winning music album Bandho Bhangar Chando is also published by Sa Re Ga ma and contains 10 songs, Rimjhim ghana ghana re, Fagun haway haway, Utal dhara badal jhare, Amar moner koner baire, Mor bhabonare ki haway matalo, Dokhin hawa jago jago, Bajromanik die gantha, Shrabonero gaganero dhara, Dekho dekho dekho shuktara and Aj khela bhangar khela. Music direction by Shamik Chakraborty. The price of Kamalini Mukhopadhay's music album Bandho Bhangar Chhando is Rs. 125/-.

Esecho Prem: Kamalini Mukherjee's solo album on Rabindra Sangeet, Esecho Prem is also published by Sa Re Ga ma and contains 10 songs, Amar praner manush ache prane, Birasa din, birala kaaj, Eki satya, sakali satya, Aji bujhi aailo priyotamo, Tumi kon bhangoner pathe ele, Nidrahara rater e gaan, Deep nibhe geche mamo nishitha samire, Amar nishitharater badaladhara, Mone robe ki na robe amare and Aha tomar songe praner khela. Music direction by Shamik Chakraborty. The price of Kamalini Mukhopadhay's music album Bandho Bhangar Chhando is Rs. 125/-.


How to contact singer Kamalini Mukherjee for music show?

If you want to contact Kamalini Mukherjee for a music show or any other official purpose, you can send her an email. The email address of Kamalini Mukherjee, Rabindra Sangeet artist, is [email protected]. You can also contact her in Facebook. Kamalini Mukhopadhay's Facebook profile ID is kamalini.mukherji.3. However, please do not misuse this contact information of Kamalini Mukherjee and disturb the artist unnecessarily.