Mallika Majumdar actress and TV anchor contestant of Bangla Bigg Boss - Profile, wiki and biography

Mallika Mazumdar a popular Bengali actress who played a bold character in controversial movie Bissh and is a lesbian by nature and very much open about it is a contestant of Bengali Bigg Boss season 1 on ETV Bangla. Here is detail profile, biography and interesting personal information about actress Mallika Majumdar.


Mallika Majumdar is from Steel city Durgapur and an actress by profession but got the real fame as an anchor of a TV show. Her performance in Bengali movie Bishh was appreciated and she got recognition in entire tollywood. Mallika Majumdar is extrovert and this nature of her made her a successful anchor as well.


Mallika Majumdar is mentally tough girl and being from Durgapur steel city, she is girl with strong heart of steel. She can mix mu in any crowd and is capable to face all the adverse situation of her life. Her dominant nature sometimes is seen as negative but she is helpful and kind for all. She is vocal and outspoken and openly revealed that she is a lesbian and stands with loud voice for her preferences.


Biodata and personal information of anchor, model and actress Mallika Majumdar

Mallika Majumdar is a Bengali girl and was born and brought up at Durgapur and at present he is a popular face of Tollywood as well as Bengali TV shows and now a contestant of Bangla Bigg Boss season 1.
Age of Mallika Majumdar - 30 years, birthday of Mallika Majumdar is in year, 1983 and her zodiac sign is Cancer.

Address of Mallika Majumdar – Originally she is from Durgapur, West Bengal but presently residing at Kolkata.

Mallika Majumdar : NA
Mallika Majumdar twitter account – You can follow her at https://twitter.com/mali_09

Mallika Majumdar, love story, dating partner or boyfriend – Not much is known about her relationships, at present she is single and concentrating towards her career.

Mallika Majumdar education – Her initial education was from Durgapur.


Mallika Mazumdar films, TV shows, commercials and awards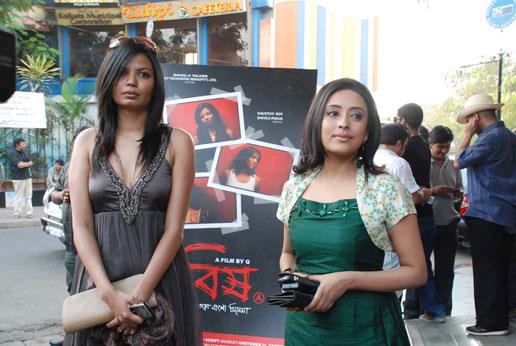 Mallika Mazumdar did some Bengali movies and was popular from a controversial movie Bisshh an A rated film which portrayed sexuality from the perspective of a woman. Raat Porir Rupkatha was another movie in which she starred with established actors like Jackie Shroff, Rudranil Ghosh, Indrani Haldar and Abir Goswami.

She did some TV shows as host and anchor. Aaj Sakaler Amontrone a very popular morning show on Bengali TV channel was hosted by Mallika Majumdar. Rannaghar a popular cookery show was also anchored by her. She did a small movie Birds of Passage in 2012.


Mallika Majumdar in Bengali Bigg Boss season 1

Bigg Boss is famous for selecting controversial, vocal and popular celebrities and Mallika Majumdar fits the bill. She is very vocal, did controversial movie Bisshh, a popular actor and TV anchor and she is very much open about her sexual preference being a lesbian. So in 90 days in the BiggBoss house lots of drama, cat fights and interesting things will be placed in front of audience by Mallika Majumdar.