Saravana Bhavan Restaurants in Chennai

Saravana Bhavan most famous vegetarian restaurant in Chennai. It is famous for its tasty mouth watering tamil style foods. The restaurant has opened its restaurants all over the world for its taste and quality food.


Saravana Bhavan Vegetarian Restaurant, Chennai

Saravana Bhavan has gathered a very good name and reputation not only in Tamilnadu and Chennai, but its fame is spoken all over the world for their best quality foods. In other words it can also be said as an authentic spicy and tasty restaurant taking the proud of Tamil style food throughout the world. Chennai's most famous vegetarian restaurant serving tamilnadu's mouth watering dishes like sambar, rasam and more. IT was first started in Chennai and then became very famous among people for its tasty recipes.


About Saravana Bhavan Hotel And History of Saravana Bhavan Hotel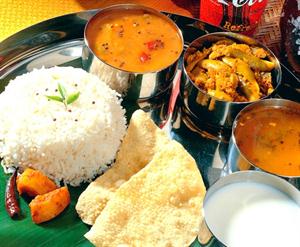 The hotel was started by P.Rajagopal born in 1947. He is basically not so rich, son of a poor farmer who was selling onions in wholesale in a small village called punnaiyadi in tuticorin district.After grown up he came to Chennai and settled in KKNagar first he ran a general provision store later in 1973 he started a small hotel in KKNagar.

Saravana Bhavan became very famous for its taste and the hotel has only vegetarian foods line from snacks, breakfast, lunch and dinner. The hotel also has sweets and many more. The hotel also discovered latest trend and opted to change its style for today's generation and started selling cakes, ice creams and juices. In some branches it has a special area for kids to play and have fun. They also have separate party halls for celebrating birthday parties and other occasions with your family. In some hotels there is open roof restaurant facilities too to enjoy your food with your loved ones.

The hotel is very famous in Chennai and has several branches all over Chennai as it has his origin here. All people in Chennai knew about this hotel and it is very famous here. There are even branches all over India. The hotel took its taste to many foreign countries and have their branches there also. The bakery contains lip melting ice cream with creamy delicious taste. They also provide Saravanaa Dairy rich Ice cream and Freshly Baked dishes serving separate division to our existing range of foods. They are the first restaurant providing icecreams and tasty creamy cakes made by their own group by Saravana Bhavan. Not only people from India likes it many foreign people also loves the hotel for its awesome taste. The hotel serves mainly Tamil cuisine all over the world.


Branches of Saravana Bhavan Hotel In Chennai:

The hotel has the following branches in Chennai:
K.K. Nagar (With A/C)
T. Nagar (With A/C)
Ashok Nagar (With A/C)
George Town (With A/C)
Purasaiwalkam
Vadapalani (A/C)
Vadapalani
Anna Nagar (With A/C)
Beach Railway Station
Dr.Radha Krishnan Salai
Santhi Theatre Complex
Peters Road A/C
Pondy Bazaar (With A/C)
Central Railway Station (With A/C)
Egmore (With A/C)
Ashok Pillar A/C
Mylapore (With A/C)
Spencer Plaza A/C
Ascendas Taramani A/C
Venkata Narayana Road(With A/C)
Anna Salai A/C
Ambit - Ambattur
Punnai Nagar (WithA/C)
Fast Foods:
Ashok Pillar
Peters Road
1, P.T. Rajan Salai, K.K.Nagar
Outside Chennai:
Restaurants - Kanchipuram
Gandhi Road (With A/C)
Annai Indira Gandhi Street (With A/C)
Group Restaurants - Vellore
Arcot Road(With A/C),near Thinathanthi office
Group Restaurants - New Delhi
Janpath
Connaught Circus


Timings Of The Hotel: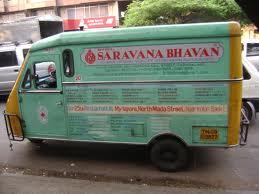 Rates are minimum only meal cost for two persons will be around Rs.200
Timings in Chennai:
Sunday- Saturday
7.00 Am – 11.30 Pm
For Other Places:
8.00Am – 11.00 Pm


Facilities of Hotel Saravana Bhavan

Home Delivery is Available.
Out Door Catering Service Available.
Party Halls Available.
A/c And Non-A/c Separate Restaurants Available.
Open Roof Top Restaurant Available.
Kids Play thing separate area Available.
Sweets And Cake Stall Separately Available.
Note:
The above facilities are available only in certain branches, So contact the branch for more details.


Awards of Saravana Bhavan Hotel

For their awesome quality of food and taste the hotel has won several awards. They have won awards not only inside India but also all over the world for their excellence in taking the taste of Tamil Cusine all over the world. The following are the awards won by Saravana Bhavan:
Premis Bersih - Malaysia
The Best Restaurant for the Year 2006 - In Muscat
Award to honour Shri P. Raja Gopal - awarded by The Rotary Club of Madras in the year 1993.
Best Employer-Employee Relationship Award to
Shri P. Raja Gopal - by The Rotary Club of Madras, In Chennai Patna in the year 1996.
Uzhaippal Uyarntha Sathanaiyalar Viruthu - given by Adayar Ananda Bhavan.
Best Achiever Award - given by Mr.A.C.Muthaiah in 2009
Best Achiever "Periyar Award" - Mr.K.Veeramani, General Secretary, ThiravidarKazhakam
25/25 Silver Jubilee Achiever Award - given by Tamilnadu Hotels Association on 2006


Recent Launches of Hotel Saravana Bhavan

Real Fruit Ice Creams:
"Real Fruits" Ice creams from the division of Saravanaa Dairy Rich fresh, natural, soft and juicy ice cream for adding more taste to the customers. The ice cream is added with Natural Fruits bought from various countries.
Pizza:
Fresh vegetarian pizza's has been made newly by Saravana Bhavan for vegetarian lovers of this new generation. So yuo can not only get rava dosa you can even have pizza's.