Vishwanathan Anand World Chess Champion- 'Tiger Of Madras'

Vishwanathan Anand from Chennai has took the proud of all chennaite throughout the world. He was five times world champion in the chess game, first Indian to win prestigious awards from the Indian government.


The Grand Master- Vishwanathan Anand Tiger Of Madras: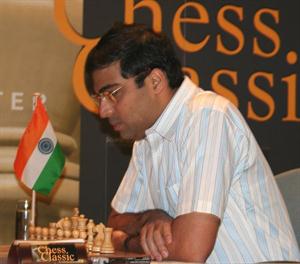 The popularly known as grand master Vishwanathan Anand is a true legend, a brainy sport personality known for his tricky and awesome sporting skill in chess game. Anand has won the world chess championship five times and is the first Indian to win world championship games. He belongs to Chennai and started his career in chess in Chennai. He was also known as 'Tiger Of Madras' by his fans. Let us see the biography of Grand Master- Vishwanathan Anand.


Anand's Early Life And Family:

Vishwanathan was born in Mayladuthurai a small place in Tamilnadu in 11th december 1969. He was born to tamil brahmin parents. His father was a manager in railways and his mother is a house wife. He had two siblings elder sister and a elder brother. Vishwanathan was the last son in their family and most loved by all. His mother encouraged him in learning chess. He was very much encouraged by his mom in playing chess and learning it. He also used to solve puzzles with fun.

He did his schooling in Don Bosco Matriculation school,Egmore Chennai. Then he completed his bachelor degree in Loyola College Chennai in the filed of Commerce. He was married to Aruna and he lives with her in Spain. They have a son named Akhil. They changed his name in tamil tradition in Anand Akhil.


Anand's Career In Chess, Victories And Titles:

When he was six year old Anand started his interest in learning chess game and he successfully won many games in nation level and other competitions. At the age of 14 he won the Sub Junior Championship level. At a very young age he won the World Junior Chess Championship in 1987. At 1988 he won Shakti Finance International chess tournament happened in coimbatore where he earned the name 'Grand Master'. He won his first world championship in the year 2000. Then he continuously won the world championship for five times in the year 2000, 2007, 2008 , 2010 and 2012. This year also he won the World Chess Championship and credited a gift voucher of 2 crore rupees by the chief minister Dr. Jayalalitha of Tamilnadu. He wins the match within a fraction of second fastly. This always amazes his fans and audience and also the player who is competing with him.

He was the first Indian to win the Grand master tournament and was the first Indian to win Worl Chess Championship five times in the history of chess game.
Title Names And Years:

Grandmaster at 1988

World Chess Champion from the year 2000 – 2002 and from 2007 - Till Date.


Awards Won By Anand And Honors: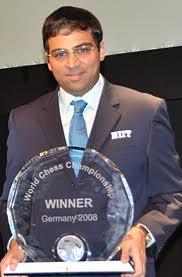 Anand was the first person to win the Rajiv Gandhi Khel Ratna Award which is Award given by the Indian government for honoring the famous sport personality. He won this award as the first sport personality in the year 1991 – 1992. He was also the first sports person to win the Padma Vibhushan award in the year 2007. In Indian history he was the first Indian sports man to win these two prestigious awards. At the age of 37 he was at the number one rank in the world level chess player.

He was the first and only Indian Sport person have been invited by the Prime minister of India for a dinner hosted by him for US President Barrack Obama. He was the guest for guiness book of world records for chess game conducted in Gujarat. He was also called as "Tiger Of Madras" by his fans and people of Chennai.