Pretty and Gorgeous Soundarya Rajnikanth

Soundarya Rajnikanth was the youngest and most lovable daughter of Tamil Actor Rajnikanth. Rajnikanth is considered to be the super star of Tamil film industry. She has been married to Ashwin an industrialist. She is a graphical designer cum producer cum director.


Pretty Soundarya Rajnikanth Ashwin- Rajnikanth's Younger Daughter: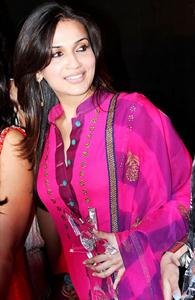 Soundarya Rajnikanth is the younger daughter of Tamilnadu's super star Rajnikanth. She was a graphical designer and director and producer in the south Tamil film industry. Being a very fun filled and cheerful personality she is right now directing the movie Kochadaiyaan in Tamil where her father is the actor of the movie. The movie is being shotted in full fledge to be released in November 2012.


Rajnikanth's Younger Daughter Soundarya's Family:

Soundarya Rajnikanth is the second director of famous Tamil actor Rajnikanth who is called the super star of Tamil Nadu. The actor is very popular and has die hard fans for him around the globe. Soundarya Rajnikanth was born in Chennai on 20th September 1984 for the couples Rajnikanth and Latha Rajnikanth. She has a elder sister Aishwarya Rajnikanth who married Tamil actor Dhanush. She has choosed a very different career in the Tamil film industry and shined on that. She jumped into the film industry as a Graphical Designer. She is married to Ashwin Ramkumar an industrialist on 3rd September 2010. Her marriage happened in a very grand manner in the Rani Meyamai Hall, Chennai where VI P's all over India came and blessed the couples. After marriage she changed her name as Soundarya Rajnikanth Ashwin.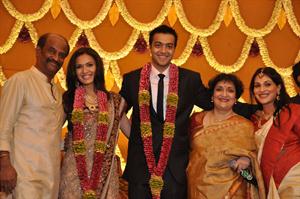 Soundarya Rajnikanth's Grand Wedding And Reception:

Soundarya's wedding happened in a very grand manner in the city of Chennai. The marriage included all the VIP personalities of India from cine field to political field. Since this is the last marriage in their family Rajnikanth made the event a great grandeur. Their wedding happened in the morning of 3d September 2010 in a traditional way. In the evening the reception took place in a grand manner. All the VIPs hitted the town for the auspicious wedding event and security was very tight during the event. Both wedding and reception happened in Rani Meyammai Hall, Chennai which is a very famous banquet hall where many cine stars to Vi P's get married in this mahal. The marriage happened in a very traditional way early morning with major few Tamil cine stars and relatives. Evening reception was very grand with a huge glamorous stage decoration and lights. The reception happened in a stunning way the area was given highest security protection and all popular stars gathered for the event and blessed the couples. The list also included Tamilnadu CM and other famous political personalities.


About Rajnikanth's Younger Daughter Soundarya's Career

Soundarya started her career as a graphical designer first then as a producer. She first started her career as a graphical designer and shown her first creation in the movie Baba where her father acted as hero. Then she designed graphical representations and released a 3D movie having the actor as her father- 'The Legend Rajnikanth'. The first 3D movie she released is "Sultan the warrior". The movies hero is Rajnikanth and the heroine is Vijaylakshmi. She is now directing another 3D movie "Kochadaiyaan" with her father as a hero. She is the founder and owner of Ocher Pictures. Ocher is becoming one of the famous production pictures in the Tamil film industry. It has collaboration with Warner Bros for producing and releasing Tamil films. She has produced the Tamil movie Goa under her Ocher pictures. She has became director for the first time in the movie "Kochadaiyaan" which is still in filming. As a graphical designer she has worked in the following movies: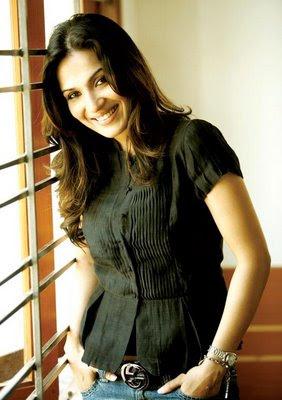 Baba
Anbe Aaryuire
Majja
Sandakozhi
Sivakasi
Chennai 600028
Shivaji
Kochadaiyaan

The movies in which she made her graphical designs shows her talent in the field of Graphics. She has wonderful and a very creative knowledge, so that she gives a tremendous designs which very much contributed in the movies, people and kids love watching it. Now in today's kids Rajnikanth is still placed in a super star fame because of these graphical designs of her father's style in her 3D movies. Makes this generation also to love Rajnikanth.