13th Convocation of Bharati Vidyapeeth Deemed University on 14th January 2012

The Bharati Vidyapeeth Deemed University, founded by Patangrao Kadam is celebrating its 13th convocation on 14th January 2012. This is the only university from Maharashtra to have a campus in New Delhi. Read this article to know more about the campuses & courses of Bharati Vidyapeeth Deemed University, 13th convocation details and future plans.


About Bharati Vidyapeeth Deemed University

Educational institutions including schools, colleges and universities can be seen everywhere in the world. Pune located in Maharashtra state, India is a beautiful place. Many famous educational institutions are located in Pune. Among them, the Bharati Vidyapeeth Deemed University is having an important place. This Bharati Vidyapeeth was established for the first time in 1964 in Pune, Maharashtra state, India. The master brain behind the establishment of such a prestigious educational institution in Pune was by Dr Patangrao Kadam(Founder of Bharati Vidyapeeth). In appreciation of academic excellence, on 26 April 1996, the Bharati Vidyapeeth was granted the status of "deemed to be university" to a cluster of 12 institutions of Bharati Vidyapeeth. Today Bharati Vidyapeeth Campuses are located in places like Kadegoan, Dubai, New Delhi, Mumbai, Pune, Kolhapur, Karad, Solapur, Sangli and Palus respectively.

It should be noted that this institute is now famous for academic excellence and enriched infrastructural facility & have 5 research institutes in the field of applied chemistry, biotechnology, grape processing etc. So it's important to note that students from not only India but all over the world also have enrolled for various courses in Bharati Vidyapeeth Deemed University. Another important feature is that NAAC(National Assessment and Accreditation Council) accredited Bharati Vidyapeeth Deemed University with A grade. The present vice-chancellor of Bharati Vidyapeeth is Shivajirao Kadam. I know majority of the students or parents may be interested to know the colleges and courses of this university. So without wasting your time, go through the following post which will help in your future studies.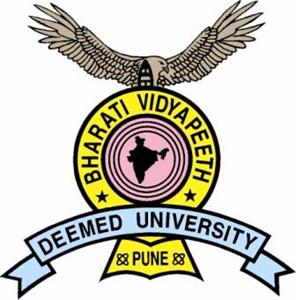 Bharati Vidyapeeth Deemed University Institutions / Colleges

Bharati Vidyapeeth's College of Architecture, Pune
•Bharati Vidyapeeth's Institute of Management, Kolhapur
•Bharati Vidyapeeth's Institute of Management and Research, New Delhi
•Bharati Vidyapeeth's Institute of Management and Rural Development Administration, Sangli
•Bharati Vidyapeeth's Institute of Hotel Management and Catering Technology, Pune
•Bharati Vidyapeeth's Yashwantrao Mohite Institute of Management, Karad district, Satara
•Bharati Vidyapeeth's Abhijit Kadam Institute of Management and Social Sciences, Solapur
•Bharati Vidyapeeth's Dental College and Hospital, Navi Mumbai
•Bharati Vidyapeeth's Medical College and Hospital, Sangli


Bharati Vidyapeeth post graduate / graduate / certificate / diploma courses

The Bharati Vidyapeeth offers PG courses in faculties like Nursing, Law, Ayurveda, Architecture, Homoepathy, Dental, Engineering, Medical, Pharmaceutical, Management, Physical Education, Hospital Administration, Environment Science and Social Science. But the faculties that offer graduate courses include Physical Education, Fine Arts, Engineering, Management, Medical, Dental, Architecture, Nursing, Homoepathy, Law and Ayurveda. Bharati Vidyapeeth offers diploma courses in Nursing, Management, Pharmacy, Engineering, Ayurveda, Medical, Law, Photography, Environment Science, Information and Biotechnology. But the certificate courses include Medical(Neonatology, DMLT) and Photography. If you have any queries you can contact the head office in the following address.


Contact Bharati Vidyapeeth Bhavan Pune
Bharati Vidyapeeth Bhavan,
LBS Rd, 13 Sadashiv Peth,
Next to Alka talkies, Pune -411030
Maharashtra state, India
Tel: PRO 020-24407106
Registrar 020-24407273
Reception 020-24407114


Bharati Vidyapeeth Deemed University 13th Convocation

I hope after reading the above facts, you got an idea about Bharati Vidyapeeth Deemed University. Now the latest news regarding Bharati Vidyapeeth Deemed University is about its 13th convocation. The 13th convocation of Bharati Vidyapeeth Deemed University will be held on 14th January 2012. Ved Prakash(Chairman of University Grants Commission) will be the chief guest for this convocation. The 13th convocation functions of Bharati Vidyapeeth Deemed University will be held at the Bharati Vidyapeeth's Campus situated on Pune-Satara road. The founder and chancellor of Bharati Vidyapeeth, Patangrao Kadam will preside over the function. During this ceremony, about 29 students will be presented gold medals and 40 students will be given Ph.D degrees. In future this Bharati Vidyapeeth Deemed University will introduce inter-disciplinary programs as well as innovative programs like information security, decision management, entrepreneurship development, netcentric computing, developing ICT infrastructure etc. Apart from this, the university is also planning to bring all under graduate and PG programs under choice-based credit system. You can also get informations of Bharati Vidyapeeth Deemed University in Facebook using the link http://www.facebook.com/bharati.vidyapeeth