Study at the Army Public School Pune

Looking for the details of Army Public School Pune? If yes, you have come to the correct page. Read this article to know more about Army Public School Pune regarding its location, facilities, address, Email id, official website, admission procedure, subjects offered and many more!


Army Public School Pune was established at Dighi in the year 1988. As the name indicates, I think you understand the fact that such a school was established for giving high standard public school type education to the children of defense personnel at a reasonable cost. But in the year 1997, this school was shifted from Dighi to its present location on Vishwamitra Marg in Pune cantonment near the southern command signal regiment and Pune race course. The students of this school are divided into 4 houses namely the Jupiter, Neptune, Saturn and Pluto. Army Welfare Education Society controls this school, which follows the CBSE board of education in India.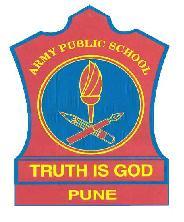 It's interesting to note that Army Public School Pune is well equipped with an auditorium, library, science and computer laboratories, music rooms, art rooms, audio visual room, basketball court, volleyball court, cricket pitch, table tennis facilities and a computer room for teacher training. TRUST IS GOD, the words of Mahatma Gandhi is the motto of this school. Army Public School Pune has 2 wings namely



Junior wing: Classes 1 to 3


Senior wing: Classes 4 to 12


Address of Army Public School Pune

Army Public School
Southern Command,
Near race course, camp,
Pune 411001
Tel: +91-20-26362765
Fax: +91-20-26362765
Email: apspune@rediffmail.com
Website of Army Public School Pune www.apspune.com


Subjects offered in Army Public School Pune


Classes(1- 5): Hindi, English, EVS, Maths, Computer


Classes(6-8): Hindi, Maths, Science, English, Computers, Sanskrit, SST


Classes(9-10): Hindi, Maths, Computers, English, Science(Physics, Chemistry, Biology), SST(Geography, History, Civics/Economics)


Junior college


Science: English*, Chemistry*, Physics*, Maths/Biology, P.Ed/ Biotech / Hindi/Info


Humanities: English*, Economics*, History*, Psychology*, Maths/Hindi/P.Ed/Info


Commerce: Business studies*, English*, Accounts*, Economics*, Maths/P.Ed/Hindi/Info




Here * represents the compulsory subjects. Remember that in each stream, one of the remaining subjects can be taken as an elective one. Apart from all this, there will be classes conducted for art, aerobics, yoga, music, work experience, candle making and many more.
For details regarding admission to Army Public School Pune, candidates should check the official website.