Tamim Iqbal IPL- Sahara Pune Warriors Player- A wiki biography

Looking for the details of Tamim Iqbal, a Bangladeshi opener in Sahara Pune Warriors for IPL 5? If yes, read this wiki biography of Tamim Iqbal to know more about his personal information, Facebook profile, height, Tamim Iqbal in Pune Warriors India, Tamim in IPL 5 and many more!


Bangladeshi cricketer Tamim Iqbal has signed up for Pune Warriors in IPL 5. While getting selected to one of the IPL 5 team, Tamim Iqbal replied that he will be able to gain a lot of experience by playing with Sourav Ganguly as well as Michael Clarke. This talented cricketer was so excited and he also mentioned his likes to talk a lot about cricket. He feels that he is so lucky to play with some of the popular cricketers and to learn new things from them. From this Tamim Iqbal wiki biodata, you will get more information like his personal details, contact profile, IPL career and many more.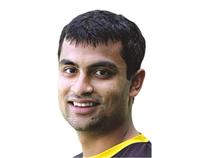 Tamim Iqbal profile

Full name of Tamim Iqbal: Tamim Iqbal Khan
Date of birth of Tamim Iqbal: 20 March 1989
Present age of Tamim Iqbal: 23
Place of birth: Chittangong, Bangladesh
Batting style of Tamim Iqbal: Left handed batsman
Role: opener
Tamim Iqbal height: 5 ft 11 in(1.80m)
Tamim Iqbal facebook: http://www.facebook.com/pages/Tamim-Iqbal-Khan/148254931866222


Tamim Iqbal biography

Nowadays the name of Tamim Iqbal, a famous cricketer from Bangladesh is popular among the cricket fans. More correctly we can say that Tamim is a Bangladesh opener. This talented cricketer made his one day international debut in the year 2007. It's interesting to note that his brother Mohammad Nafees Iqbal Khan is a right handed batsman and right-arm medium pace bowler in Bangladesh cricket team. Tamim plays first class cricket for Chittangong division cricket team, a first class cricket team that represents the Chittangong division in Bangladesh. In the year 2011, Tamim was named as one of Wisden cricketer's almanack's(world's most famous sports reference book) four cricketers of the year and wisden's test player of the year respectively. Tamim had scored four half centuries in the Asia cup recently, thus helping Bangladesh to reach the final, where they lost by 2 runs to Pakistan. As we all know IPL 5 is closely approaching us, Tamim Iqbal's name is also related with IPL 5 2012. I know you are a cricket fan who is interested to know more about this. So read the rest of this article where you will get the important fact regarding Tamim Iqbal.


IPL 5- Tamim Iqbal in Pune Warriors India

For the Indian Premier League 2012, Pune warriors India will be playing with foreign players including Tamim Iqbal. Tamim has signed for Pune warriors thus becoming the franchise's eleventh overseas player. You must also read about Pune Warriors India