About Gujarat - One of the developed states of India

This resource highlights facts about Gujarat state. This includes its population, literacy rate, districts, education, tourist places, industries, agricultural products, information about important city and its railway station, formation date of Gujarat and also transport facility in Gujarat.



Being one of the fastest developing states of the nation and World, Gujarat is known for particularly for its business skills and developments but here some of the information which also gives an insight into the Gujarat state. Gujarati is official language of Gujarat state but Gujarat is a place where people from almost every state reside here and speak non Gujarati language and they mixed with Gujarati people like mixing of sugar in milk. Being one of the safe place to live in country make Gujarat one of the favorable place to settle.

Formation of Gujarat taken place on 1 May, 1960 along with formation of Maharashtra. Before this formation, Gujarat and Maharashtra was integrated states. So, 1 May is Gujarat Day and Maharashtra Day simultaneously. Read about History of Gujarat.

Capital of Gujarat: Ahmedabad was selected as capital of Gujarat in early days but it was then moved to Gandhinagar.

Area of Gujarat: Gujarat's geographical area is about 196024 squre kilometers. Gujarat also has logest sea coastal area of about 1600 kilometers. Gujarat share it border with Rajasthan, Maharashtra, Madhyapradesh, Daman-Diu, Arabian sea and also with Pakistan. Gujarat is 7th state in area rank in India.

No. of Districts in Gujarat: Gujarat has 26 different districts and total 242 towns. Villages in Gujarat are 18539 in numbers.

Main towns of Gujarat includes Ahmedabad, Surat, Vadodara, Rajkot, Bhavnagar, Porbandar, Jamnagar, Mehsana etc.

Rivers in Gujarat: Sabarmati (passes from Ahmedabad), Narmada (near by Bharuch), Mahi, Tapti (passes from Surat), Banas, Saraswati, Damanganga.

Mountains in Gujarat: Gujarat is having Girnar mountain range in Junagadh, Shetrunjaya, Bardar Hills nearby Porbandar and Jamnagar.

Transports and communications to Gujarat:
Gujarat is well connected by Indian other states by rail, road and air as well as by sea. Road length in Gujarat is 74075 km. Important railway stations in Gujarat are Ahmedabad, Vadodara, Surat, Rajkot, Jamnagar,Bhavnagar, Anand, Valsad, Nadiad etc. Gujarat has Airports in major cities like Ahmedabad (Internation Airport), Bhavnagar, Vadodara, Bhuj, Rajkot, Surat, Jamnagar, Kandla, Porbandar.

Economy of Gujarat:
Gujarat land produces Petrolium oil, natural gas, petrochemicals etc. Gujarat industries includes textiles(Surat, Ahmedabad), inorganic chemicals like caustic soda and soda ash(Bhavnagar), drugs, oil refineries (Jamnagar), pharmaceuticals(Ahmedabad, Vadodara, Vapi), cement(Porbandar, Bhuj, Jafrabad), electronics and electricals (Vadodara)
Gujarat agricultural land produces Bajra, jowar, maize, rice, cotton, tobacco, groundnut, isabgol, sugarcane, mango and bananas etc. major products.

Tourist destinations in Gujarat:
Gujarat tourist destination includes Gandhian Sabarmati Ashram in Ahmedabad, Lothal dockyar, Siddi Bashir mosque, teen darwaja,Palitana jain temples, Gaurishankar lake, kankaria lake, Shamlaji
Also visit Gujarat tourism places.

Shrines like Modhera Sun temple in Mehsana, Hatheesing jain temple, shamlaji, jama masjid, rani rupmati mosque, Akshardham Temple

Historic places of Gujarat like Patan, a dynasty of Solanki Raj, Lothal and Dholavira remains of Harrappan civilization, Adalaj Vav which is world's most famous elaborated well, Rani ki Vav

Beaches in Gujarat includes Porbandar, Jamnagar, Chorwad, Beyt dwarka, Somnath, Veraval, Mandvi, Bhavnagar.

Wildlife in Gujarat includes Gir and National Park for asiatic lions, Pirotan Marine National Park known for corals and fish, Rann of Kutcchh, Nal sarovar Bird Sancturay.

Gujarat Political view:


Gujarat's First Governor: Mehdi N Jung (May 1, 1960 - August 1, 1965)


Gujarat's Current Governor: Ms Kamla Beniwal (November 27,2009 - till date)


Gujarat First Chief Minister: Dr. Jivraj N. Mehta (May 1,1960 to March 3,1962, 3 March, 1962 to 19 September, 1965)


Gujarat's Current chief Minster: Shri Narendra Modi (October 7,2001-till date)


Legislative Bodies:
State legislature: Unicameral - Seats of 182, Lok sabha seats - 26, Rajyasabha Seats - 11

Education in Gujarat
GSHSEB (Gujarat Secondary and Higher Secondary Education Board) was constituted in 1972 State education board for secondary and higher secondary education for lower level education in Gujarat. For higher level education Gujarat has univerisities like Gujarat Technological University (GTU), Gujarat University, Bhavnagar University, Saurashtra University, Ganpat University, MS University, Vir Narmad South Gujarat University, North Gujarat University.

Gujarat has more than 90 Engineering colleges, more than 13 medical colleges and other stream colleges.

Population in Gujarat is 6 crore 03 lacs nearly and is 10th in population rank in India. Polulation density as per 2011 Census is 308 person per squar kilometer.

Literacy rate in Gujarat is about 79%.


Amazing and excellent statistics about Gujarat:


Maximum number of airports in India - 11


Maximum Pharmaceutical production in India - 45%


Maximum amount of Jewellery production in India - 72%


Maximum in crude oil production in India: 54%


Maximum Number of ports in India: 41


Maximum amount of sea coastal area: 1600 km


Gujarat has total 26 districts and they are as under.


Gujarat Districts


Ahmedabad

Ahmedabad is biggest city of Gujarat and was built by Sultan Ahmed Shah in 1411. Ahmedabad is business hub of India and almost of the World too. Ahmedabad city is also known for its various tourism places like kankariya lake, Sidi Saiyad's Jali, Sabarmati Ashram, Julta Minars etc.

Amreli

Amreli is a part of Saurashtra region of Gujarat and was a part of Gaekwad of Baroda in 1986 and was known as Amravati, Anumanji in 534 AD. Amreli is having many more places to visit for tourism like Nagnath temple, Khodiyar dam, Bhurikhiya Hanuman Mandir etc. Many famous personality belongs to this city like Dr. Jivraj Mehta, the first CM of Gujarat, Kavi Kant, Poet Ramesh Parekh, K'LAL magician etc.

Anand

Anand, a Milk Capital of India due to AMUL Dairy and its milk products. Anand was declared separate state in 1997 from Kheda district. It is surrounded by Vadodara and Kheda districts. Sardar Patel was born in one of the city of Anand district, called Karamsad. Darkor one of the great religious spot dedicated to Lord Krishna. Anand is also having Anand Agricultural University.

Banaskhantha

Banaskantha is one of the district of Gujarat and its capital/administrative headquarter is Palanpur. Banaskantha contains 12 different talukas. Banas river which flows between Mount Abu and Arrvalli range and due to this river name, this district is named as 'BanasKantha'. Ambaji temple and Balaram temples are one of the great temples in Gujarat.

Bharuch

Bharuch city is situated on the bank of river Narmada and is believed to be home of Bhrigu Rishi. Bharuch is also one of the big industrialist cities and having many industries like Videocon, Welspon, Reliance industries. Bharuch is also related to many religious people like Rishi Bhrigu, Vamana, Laxmi and there are many reference of Bharuch city in many holy books like Mahabharata, Ramayana, Shiv Purana, Vishnu Purana etc.

Bhavnagar

Bhavnagar which is believed to a home for Goddess Khodiyar Mata and was a first princely state of India to join in integration of Indian states. Bhavnagar was founded by 1723 by King Bhavsinhji and it has many tourist places like Bor talav or Gaurishankar talav, Takhteshwar Mahadev temple, Victoria town and many more. Bhavnagar was also a home for Kavi Kant, Narsinh Mehta, Gijubhai Badheka, Kavi Dula Kaag etc.

Dahod

Dahod which is also known as 'Dohad' means region sharing its border with two other region. Dahod shares its border with Rajasthan and Madhya Pradesh and is situated on the bank of river Dhudhimati. Badshah Jahangir was born to this place. Earlier it was in Panchmahal district but now it is a separate district. Kachori is the one of the best namkeen produced by the city of Dahod.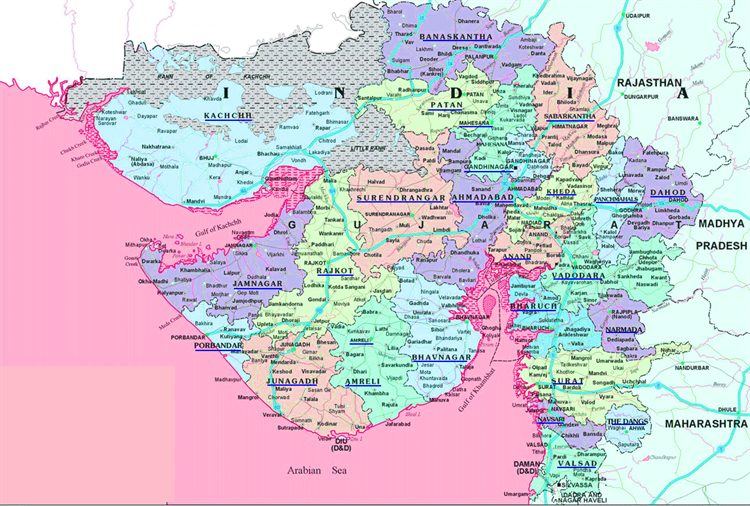 Gandhinagar

Gandhinagar which is the capital of our Gujarat state (Since separation from Bombay since 1st May, 1960) and is one of the best structure city of India like chandigadh in Sectorwise. Gujarat's Legislative assembly is in Gandhinagar which is at 23 km away from former capital of Gujarat i.e. Ahmedabad. Famous Akshardham Temple is situated in Gandhinagar. Adalaj's Vav (Well) is in Gandhinagar district and is one of the attractive place for tourists.

Jamnagar

Jamnagar is one of the old city of Gujarat where Jadeja Rajputs were used to rule the Kathiyawad region/Saurashtra. Jamnagar was built in 1920 by Maharaja Ranjitsinhji as "Navanagar" and later it is known as Jamnagar means city of two Jams, ruler named with Jam. Jamnagar has many tourist places like pearl fisheries, Lakhota fort and Kotha Banstion. Jamnagar is also known for its Bandhani work.

Junagadh

Junagadh is one of the largest city of Gujarat and is located at the foot of Girnar Parvat/hills. Meaning of the city is Old fort. Juna means old and Gadh means Fort. Before the independence this princely state was part of Saurashtra state and later it was mixed with Bombay state. But later in 1960, it was allowed to integrate in Gujarat. Junagadh has many tourist points like Girnar Hills, Gir forest regions, Museum etc.

Kutchchh

Kutchchh is largest district and region of Gujarat state and even in India. Majority of the region of Kutchchh is covered with desert (Rann). Kutchchh shares its border with Pakistan, Arabian Sea and Gulf of Kutchchh. The meaning of Kutchchh is one whose weather changes wet and dry alternately. Kutchchh has many sanctuaries and places to visit like Kutch Bustard Sanctuary, Kutch Desert Wildlife Sanctuary, Indian Wild Ass Sanctuary and Narayan Sarovar Sanctuary. Bhuj is one of the major city of Kutchchh. People of this district has their own regional language called 'Katchchhi'.

Kheda

Kheda is one of the districts of Gujarat and is around 35 km away from business hub of Gujarat i.e. Ahemedabad and is on the state highway between Ahmedabad and Mumbai. Kheda town belonged to Babi family until 1763 and then it was handed over to Marathas but in 1803, Marathas gave it to Britishers and remain military station until 1830. Dakor is one of the pilgrimage place, temple of Lord Krishna and also a temple of Khedia Hanuman Temple. Nadiad city which belongs to the Kheda district is known for its DDIT (Dharamsinh Desai Institute of Technology) college for engineering.

Mehsana

Mehsana was founded by King Meshaji. Mehsana is famous for mehsani breed of buffalo is one of the largest district of Gujarat in Northen area. Mulnayak temple, Sun temple of Modhera, Swaminarayan temple are one of the tourists spot of this district. Mehsana is also having industrialist area in which ONGC (Oil & Natural Gas Corporation Limited) and Dudhsagar dairy. Mehsana is also second home for south Indians or so called hub of south India.

Narmada

Narmada is newly formed (In 1997) district of Gujarat state and having administration office at Rajpipla city. This district shares its border with Vadodara district, Maharashtra, Tapi district and Bharuch district. After Dang and Porbandar Narmada district is third least populated district in state and its population is around 6 lacs.

Navsari
Navsari, one of the district of Gujarat state is located on the bank of Purna river. Navsari district has two lake called Dhuliya lake and Sharbatiya lake. The soil of the district is of black color. Navsari's history is related to Parsi peoples. Jamshedji tata and Dadabhai Navroji were of this city. The nearest air port for the city is at Surat located at 30-35 km from city.

Panch Mahal

Panch Mahal is a district whose meaning is a district made up of five talukas-sub divisions and they are Dahod, Godhara, Jalod ,Halol and Kalol. The administrative head quarter of the district is at Ghodhara. The district shares its border with Dahod, Vadodara, Kheda and even with Rajasthan state. The history of Panch Mahal is related to Mughal Empire, Solanki dynasty, British India and Marathas.

Patan

Patan was once capital of Gujarat state in olden times and now it is a district of Gujarat state, India. Patan was founded by King Vanraj Chavda in 745 AD and that time Patan was famous on name of 'Anhilput Patan'. Patan has many tourist places and many historical places. Sahastra Ling Tank, Rani ki Vav etc. Once Patan was a part of Maratha state of Baroda.

Porbandar

Porbandar is known as birth place of our Rashtra Pita Mahatma Gandhiji. It has many tourist places like Kirti Mandir, Sudama Mandir, Bharat Mandir, Gita Mandir, Rokadia Hanuman Temple, Bird Sanctuary and Jambuvanti Gufa. Porbandar is one of the 'Bandar' of Gujarat and has beach for tourists. Porbandar has also coastal guard institute.

Rajkot

Rajkot one of the largest district and city of Gujarat and is also one of the fastest growing city of world. Rajkot is on the bank of Aji river and Aji river has Aji Dam. Rajkot was ruled by many rulers like Nawab rule, Jadeja rule and Korat rule. On the independence of India, Rajkot was capital of Saurashtra state but in 1960, on the formation of Gujarat state, it was merged with Gujarat state. Rajkot has many engineering college and other institutional colleges.

Sabarkantha

SabarKanntha is one of the district of Gujarat and it is having its adimininstrative city in Himmatnagar. Modasa is educational hub of Sabarkantha. Ider fort is one of the tourist place in this district. Khedbrahma and Shamlaji are worth visitable spot in this district.

Surat

Surat is one of the largest district of Gujarat and was known as suryapur in old days. It is also known as diamond hub of India and also commercial city of Gujarat. Surat is second largest city of Gujarat after Ahmedabad. Surat district is surrounded by Bharuch, Dang, Narmada and Navsari district.

Surendra Nagar

Surendra Nagar is known as entrance of Saurashtra zone of Gujarat. Surendra Nagar city is administrative city of Surendra Nagar district. Surendra Nagar district was ruled by Zala Rajputs. Surendra Nagar has many educational institute like C U Shah Engineering colleges and many more.

Dang

Dang is one of the newly formed district of Gujarat state and has administrative city as Ahwa and is least populated district of Gujarat. Dang is one of the district to whom Central government gives grant under Backward Regions Grant Fund Programme (BRGF) scheme and Dang has about 77% literacy rate.

Vadodara

Vadodarais having Vadodara as its headquarters in Vadodara city. Mahi river is passes through this district. Vadodara district is surrounded by Dahod, Panchmahal, Anand, Kheda, Bharuch, Narmada districts and Madhya Pradesh. Vadodara was once ruled by Maharaja Sayaji Rao Gaekwad. He founded Maharaja SayajiRao University (MS University) in Vadodara city.

Valsad

Valsad district is one of the districts in South Gujarat. Valsad district is having its head quarter in Valsad city which is also known as Bulsar. Valsad district has Tithal beach as tourism spot. Valsad is major railway station and is on one of the busy railway line of India i.e. across Ahmedabad-Mumbai.