Akshardham Swaminarayan Temple, Gandhinagar (Gujarat)

This article is all about one of the largest temple/mandir in Gujarat and even in India. This temple is solely dedicated to Lord Swaminarayan. The temple is a one spot combination of cultural heritage, social gathering, humanity, knowledge spot and many more. Lord Swaminarayan Murti is made up of Gold. Temple is also having exhibition halls to show people about Indian history, Swaminarayan religious events, Water shows and garden.


Akshardham temple, Gandhinagar-Gujarat is one of the greatest temples in India which is a symbol of cultural and holistic status of India and Gujarat. Akshardham temple, Gandhinagar is one of the largest among the temples built by Bochasanwasi Akshar Purushottam Swaminarayan Sanstha (BAPS). This temple is blessed and guided by Spiritual leader of BAPS Pramukh Swami Maharaj.
Akshardham temple, Gandhinagar was built in 1992 which is dedicated to Lord Swaminarayan who took birth in India (Chappaiya Village, UP) in 1781-1830 to serve and guide people of India along with formation of Swaminarayan religion. This temple is living example of combination of cultural, social, religious, education, devotional place. The security system of the temple is now more alert than September, 2002 as This temple was attached by two terrorists in 2002 which is one of the horrible event in Indian Cultural history that even Temples are not safe nowadays due to this type of anti human activities called Terrorism.


Some Interesting Statistics of Akshardham temple, Gandhinagar

Akshardham temple, Gandhinagar is made up of 6000 tonnes pink sandstones to give amazing and wonderful image to this temple. This temple is made up of different 93 carved pillars which show storylines of life of Lord Swaminarayan and religion, 40 windows and this temple was built by 900 skilled men with enormous amount of building time of more than 1 crore 20 lacs hours.





Akshardham temple, Gandhinagar is having total approximately 3.5 lacs square feet area for cultural and total of 6.5 lacs square feet area for garden. Total area of this temple is about 1 crore square feet. Lord Swaminarayan Murti is made up of Gold with 7 feet height and total floor area of Mandapam where this Murti is placed is called Hari Mandapam and their floor area is about 13000 square feet. There are two other Mandapam called Vibhuti Mandapam and Prasadi Mandapam which displays the holy parts of Lord Swaminarayan. Total floor area of this place is about 11400 square feet.


Exhibition halls at Akshardham temple, Gandhinagar

Along with spiritual Darshan of Lord Swaminarayan at Akshardham, visitors also look at the different exhibition halls made for special purposes. Like life of Lord Swaminarayan and related subjects are shown in different exhibition halls to spread spiritual knowledge and awareness to built culture of India even stronger.


Hall No.1 & Hall No. 2

Exhibition hall no. 1 and no. 2 is called 'Neelkanth Hall' and 'Sahajanand Hall' where life of Lord Swaminarayan is showed in theatre specially built for this show. The show drew you back in time when Lord Swaminarayan was alive in Chappaiya Village-Birth place of him. The show also include 'Journey through India' and 'Sound-n-light' shows which finely portraits Lord Swaminarayan's life. IMAX like show is shown by film called Mystic India which is first in large format epic in Indian history. The film is owned and financed by BAPS sanstha. The show is of about 1 hour duration. The floor area of this hall is about 22000 square feet.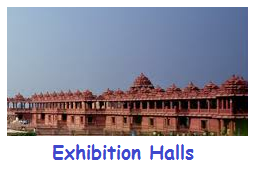 Hall No. 3

This hall is called 'Nityanand Hall' which shows message of Mahabharat, Upanishads and Ramayan though film. This also includes exhibition containing combined audio and animation show (45 minutes) which recreates events occurred in past. Floor area of this hall is about 9420 square feet.


Hall No. 4

Premand Hall which is of also one hour duration shows journey from Hastinapur from the mahabharat, songs of saints and Gurukul nature. Floor area is about 31000 square feet.


Hall No. 5

Sant Param Hitkari hall shows audio animation film which carry you to the journey beyond 200 years and gives you feel of life in those time which is of amazing atmosphere, events and happenings during those days.

Sat-Chit-Anand Water show
The Sat-Chit-Anand water show runs about 45 minutes which tells the story of Nachiketa who fought with Yama-God of Death to know supreme knowledge about humanity. Story is referred from Kathopanishad. This show is shown normally after sunset to have proper viewing of colors shown during water show. The show is possible by use of around 4000 nozzles, 100 pumps and 12 fireball throwers.


Sat-Chit-Anand Water show timimg: Show begins sharp at 7.30 pm daily except Monday


Sat-Chit-Anand Water show rate per person: Rs. 75/- for adults, Rs. 55 childeren below 11 years old. Others will be considered in Rs. 75/- category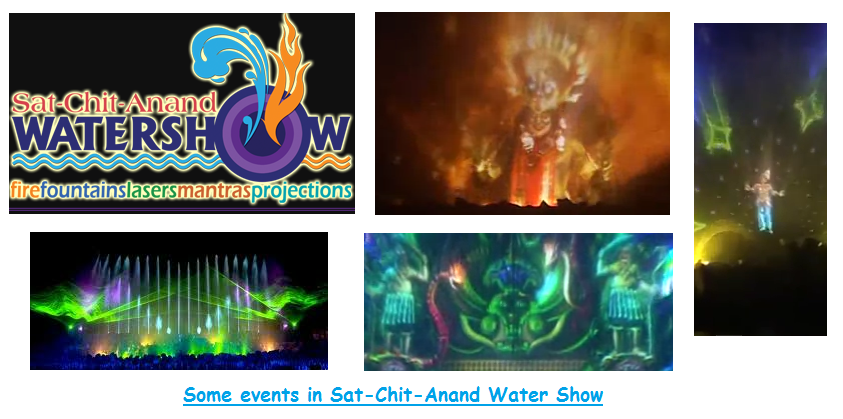 Garden of Akshardham Temple, Gandhinagar
The Garden of Akshardham Temple, Gandhinagar is around 6 lac 45 thousand square feet in carpet area. Garden is specially built for spending time with nature and also for Children Park. Park consists of rides, games and spots which teaches cultural events to children.

Research Centre at Akshardham Temple, Gandhinagar
The Akshardham Center for Applied Reseach in Social Harmony (AARSH) is research centre built for future researches in cultures, society help, and devotions. AARSH is also equipped with rich library to support research.


Address/Location of Akshardham Temple

Akshardham Temple,
Indian Cultural Complex,
'J' Road, Sector No.20,
Gandhinagar,
Pin code – 382020
Gujarat, India
Website: www.akshardham.com/


How to reach at Akshardham Temple

Akshardham Temple is located in Gandhinagar which is about 30-35 km away from Ahmedabad by road. The nearest air port is Sardar Vallabhbhai Air port, Ahmedabad which is at 13 km from temple. By rail, Ahmedabad Junction/Kalupur is nearest big railway station where majority of trains stop is available from each region of India.


Visiting Timing for Akshardham Temple-Ghandhinagar

There are two different season for which different timings are set for visit

Visiting Timings for April to September month duration: 10.00 am to 7.00 pm everyday except Monday as Temple is not open for visitors for whole day.

Visiting Timings for October to March month duration: 9.00 am to 6.00 pm everyday except Monday as Temple is closed for visitors for whole day.

Security system and other things to note at Akshardham Temple

After 2002, Security system of this temple is very strict to avoid terrorist like activities. Visitors need to submit their all the belonging like watch, belts, mobiles etc. to officers appointed there to support security reasons.


Opposite to Akshardham temple, various food and cold drinks stalls are available for visitors. Various other stalls are also there which are related to kids and their toys. Various other transportation means are availble there like private auto-rickshaws, city buses, private taxes etc. Parking facilities are also available to support arrangements beside and front of temple.