Dwarkadish Temple - 'Jagat Mandir' Dwarka, Gujarat

This resource is a glimpse of the temple of Lord Krishna from the time of Lord Krishna's kingdom in Dwarka, Gujarat. Temple was built about 2500 years ago by Lord Krishna's grandson and this temple is also known as 'Jagat Mandir' which is having two dwars means Gateways, many shrines of Vasudev, Devki, Devi Rukamani, Devi Satyabhama, Devi Jambuvati etc. Bet Dwarka is the place where it is believed that Lord Krishna lived at that place. Read the full resource to know various details.


Dwarka, Suvarna Dwarka which is also known as Dwarawati as ancient name found in Sanskrit literature like Vishnupuran, Mahabharata, Bhagvata Purana and Skanda Purana. Dwarka is a city and also a municipality under district of Jamnagar. As per Olden days, there are seven most old/ancient/religious cities in our Bharat and they are namely Mathura, Ayodhya, Kashi, Kanchi, Avantika, Dwarka and Maya.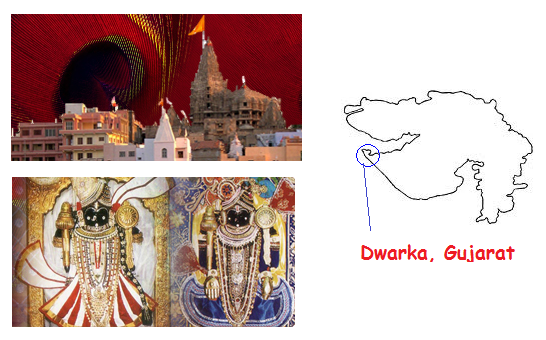 Modern Dwarkadhish Temple, Dwarka, Gujarat

Dwarkadish temple/Jagat mandir is situated in Dwarka city. The present temple was built by grandson (King Vajranabha) of Lord Krishan in about 2500 years ago. The old Dwarka city was built near by the modern day Dwarka city but it was unfortunately sunk in Arabian Sea six times. After Lord Krishna left the Dwarka to go to Vaikunth and that time was about 36 years after War of Mahabharata (3138 BC). Whole Yadav kul was destroyed due to quarrel between own brothers. Arjuna was sent to Dwarka to save grandsons of Lord Krishna and their wives and to bring them to Hastinapur. As Arjuna left the Dwarka, whole Dwarka was sunk into the sea and thus complete demolishing of great Yadvas happened.

Modern Dwarkadhish temple is 5 stories temple built by sand and limestones only. The present temple has two dwars (Gateways) namely Swarga Dwar and Moksha Dwar. Entry to the temple is via Swarga Dwar and exit from the temple is via Moksha Dwar. Visitor can see the confluence of river Gomti into the Arabian Sea from the temple. One can also visit the shrines/holy places of Devaki, Vasudeva, Balarama, Revati, Rukmani Devi, Subhadra Devi, Jambavati Devi. Temple of Devi Rukmani is situated on the way to Bet Dwarka temple. One has to use Boat to get there and one can get the holy darshan of shrines of Lord Lakshmi narayana, Trivikrama, Rukamani Devi, Devi Satyabhama and Devi Jambavati. The modern temple has many carvings rich with ancient events and stories, messages. This five storied modern temple rests on 60 pillars and its shikhar is of about 170 feet height. Temple has 52 yards lengths of cloth flag and it is also seen from a distance 10 km away from it.
Visiting time of Temple: 6.30 am to 1.00 pm and 5 pm to 9.30 pm daily


About Dwarka city

As per the order of Lord Krishna, Vishwakarma built the first olden Dwarka city and land for city was acquired from the region of Saurashtra sea shores as first city was built on the water and it was like an island. This city was also known as Dwaramati, Kushshthali and Dwaravati. Holy Gomti River passed nearby the old city and present day it also passes by and submerges into the Arabian Sea. 'Sudharma Sabha' hall was also built in that time to have holy meetings; complete city was planned as per wish of Lord Krishna and has many palaces, roads, plazas and public utilities. Each wife of Lord Krishna had her own palace made up of God/silver. There were almost 7 lac palaces for such purpose.


Bet Dwarka, Gujarat

Bet Dwarka is like an island and visitor can go there worship Lord Krishna by means of boat from Okha Bandar. There are many temples on Bet Dwarka related to Lord Krishna and Devi Rukamani. It is believed that Lord Krishna's home was at Bet Dwarka and it was sunk when Lord Krishna left it when he went to Vaikunth.


Where to stay at Dwarka?

Visitor to Dwarkadhish temple can have stay in nearby Hotels, Atithi gruhs, Circuit house. Few stays are as under

Gayatri Athithi Gruh


Dwarkadhish Athithi Gruh


Jay Ranchhod Dharmsala


Swaminarayan Temple


Patelwadi Dharamshala


Birla Dharamsala


Kokila DhirajDham


Visrolia Dharmashala


Forest Guest House



How to reach at Dwarka
By Road: Dwarka is 146 km away by road from Jamnagar, 453 km away from Ahmedabad. By road one can reach to Dwarka via state Jamnagar Highway.
By Train: Dwarka is on broad gauge railway line from Okha to Ahmedabad. Rajkot is 217 km away and Ahmedabad is 471 km away via railway.

By Air: Nearest airport is in Jamnagar which is at 137 km away via road.