Beaches in Diu, Gujarat

This article is all about beaches nearby Diu city. These beaches include The Nagoa beach, The Gomitmata beach, Ghogla Beach, The Jallandhar Beach, The The Chakratirth Beach and Sunset point beach. These beaches have many visitable spots and where visitors can do swimming, water-skiiing, wind Skiing, camel riding and many more. Diu and Daman are two visitor spot where there is no legal restriction on alcohol.


Diu which is a union territory of India along with Daman is a one of the most attractive places for travel-tourism and one of the least populated district of India. Diu has got more Sea shore and is like an island. Only Diu and Daman are the areas where alcohol is available legally. Diu has got many beaches to attract visitors.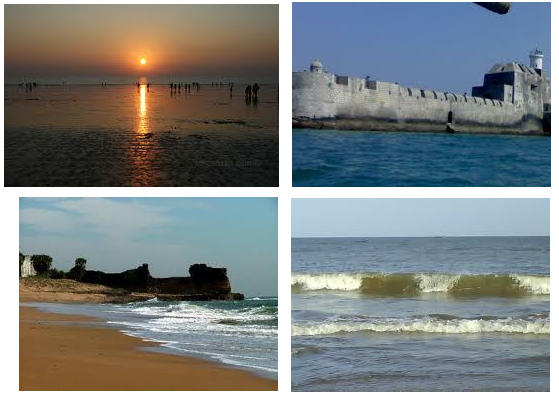 Beaches in Diu, Gujarat

Diu has many beaches like The Ghogla Beach, The Nagoa Beach, The Chakratirth Beach, The Jallandhar Beach, The Gomtimata Beach and one sunset point. Read the following details about beaches in Diu.

The Nagoa Beach, Diu

The Nagoa Beach is situated nearby Nagoa village. The village is of small populations and hence is called Hemlet of Nagoa. The Beach is equipped with many more activities like boating, water sports, swimming facility and gambolling. Para-sailing, jet skiing, water-skiing and wind surfing are one of the most attractions at this beach of Nagoa.This beach is of horse shoe-shaped and is available at just 20 minutes way from Diu city. The village of Nagoa is famous for its fishing activities. The beach is having white shallows, sea bathed by sun rays, exciting camel and horse riding. This beach which is surrounded by Hoka trees is having poor transportation facility. You need to keep eye on transportation otherwise at the end of the day one has to walk to straight to Diu city which is about 7 km away from this Nagoa Beach.

The Gomitmata Beach

Another beach after beach of Nagoa is The Gomtimata Beach which is at west side of Diu. One can get amazing time pass with nature having amazing still atmosphere but sounded with heavy waves of Sea. White sands are available on this beach. Swimming could be dangerous here because of high and dangerous tides of Sea.

The Ghogla Beach

This is one of the famous and well known beach of Diu beaches and is known as The Ghogla beach. This beach is also known as Ahmedpur Mandvi when Gujarat border is crossed. The sand of this beach is golden color and this beach is famous and well known for nature view from here. Swimming is one of the best activities can be done here on the beach.

The Jallandhar Beach

The Jallandhar beach is named from the holistic shrine of Jallandhar on a hill side near this beach which is at a almost a kilometre by road distance from Diu city. Chandrika temple is located nearby area which is dedicated to Goddess Chandrika. This is one of the most favourite beaches of all visitor who wants holistic visit to this beach.

The Chakratirth Beach
This beach is located on south-west side of Diu city and his famous for maritime activities. The Chakratirth is also having auditorium and changing room facility. The most favourite places to visit on the beach is beautiful gardens along with holy and still atmosphere.


Sunset Point at Diu beach


The beach on which sunset point is observable is very small and this beach is swimming safe beach. Palm trees surrounds the beach and constant roar and sound of water striking nearby area is one of the soothing things to hear. Sunset point beach is one of the most famous beaches after Chakratirth beach for beachgoers.


Where to stay at Diu city?

One can stay at Diu with following hotels and gruhs.

Ganga Sagar Hotel


Cidade de Diu


Khushi International


Hotel Marico Do Mar


The Richie Rich Resort


The Hoka Resort


The Rasal Beach Resort



How to reach at Diu, Gujarat?

Diu is nearby Una city and has got road connectivity with Una. Somnath temple is located from here at about 90 km. nearest railway station is Veraval which is connected to major railway stations. Porbandar is at 230 km from Diu, Rajkot is at 295 km by road from here. Diu has one nearest airport at Nagoa and has daily flight to Mumbai.