Religious Temples in Bhavnagar District

This article gives an overview of some of the most religious temples in Bhavnagar district. It includes Takhteshwar temple, Khodiyar temple-Rohishala, Jain temples at Palitana. Article also describes importance and history related to each temple. Khodiyar temple is dedicated to Goddess Khodiyaar Maa, Takhteshwar temple is dedicated to Lord shiva and Jain temples are dedicated to Jain tirthankars like Lord Mahavir and other great mans in Jain religion.


Bhavnagar has two main religious temples and they are Takhteshwar temple and Khodiyar Temple. Takhteshwar temple is located in Bhavnagar city. Takhteshwar temple is dedicated to Lord Shiva and it was built by King Takhta sinh. And Khodiyar Temple is located at Rajapara village and is dedicated to Goddess Khodiyar Maa.


Takhteshwar Mandir, Bhavnagar

Takhteshwar temple is built by King Takhtasinhji in 1893 which is dedicated to Lord Shiva. Temple is totally made up of white stones and is above the ground level/small hill that from this site, complete Bhavnagar city is observable in aerial view. Temple is located nearby central railway station, Bhavnagar.
The temple is popular place for outing and tourism point of view.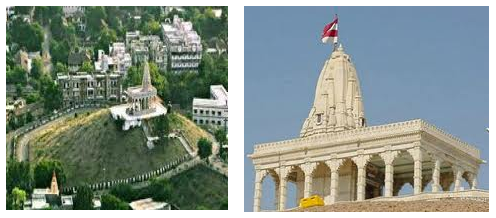 Khodiyar Mandir – Rajapara, Bhavnagar

Bhavnagar located in Gujarat is one of the cultural capital of Kathiyawad, Saurashtra region and has many temples (Mandirs-Place of Worship of God/Goddess) and many visitor spots like Gaurishankar lake, Victoria Park, Takhteshwar temple of Shiv and many more. One of them is Khodiyar mandir which is located on the way to Shihor-Bhavnagar National Highway.


History behind Khodiyar Mandir-Rajapara


Around 700 AD, In Vallabhipur King Shilbhadra was ruling and he was having his closemate named Mamaniya lived at Rohishala village of Vallabhipur district. Both were having great friendship and this was envied by King's Ministers and they consulted Queen to break the friendship by restricting Mamaniya to come to Palace by saying "Vanj" meaning "Child less". This was very shocking for Mamaniya and he prayed God Shiva and Shiva gave him 'Vardan-Blessing' that Goddess will be coming to his home as her child and she was none other than Maa Khodiyaar. By removing grieves and sad from society at that time, People called her Khodiyar and she became well known. This news is spreaded everywhere including Bhavnagar and King of Bhavnagar wanted to take Maa Khodiyar to come to his kingdom.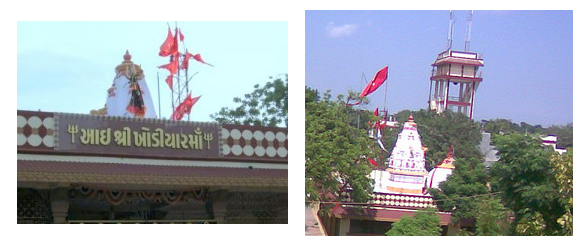 Khodiyar Mandir is the place is where Khodiyar Maa stopped while she was coming to Bhavnagar princely state because of holy request from King/ruler of Bhavnagar, Atabhai Gohil and she stopped because Khodiyar maa promised to come to Bhavnagar only when she followed King and King does not look back to check whether Khodiyar maa was coming or not. Now to test the King's faith, Maa Khodiyar ceased the sound of her footsteps and the same time King looked back and as King did not obey promise, she stopped there and never came to Bhavnagar and this is the holy place of Rajapara village where Maa Khodiyar permanently resides.

There are many affordable and good hotels nearby Khodiyar Madir and also Dharmashala with 9 rooms (Five rooms are equipped with A/C and remaining are of non A/C). Except these, there is rasoighar and prasadghar where people/visitor can make lapsi, called Prasad of Khodiyar Maa. There are also facility of rest for women with 100 capacity.


Jain Temples in Palitana

Palitana is one of the talukas of Bhavnagar district, Gujarat and is only place in the world where maximum (863 temples) Jain religion temples. Maximum temples are located on Shetrunjaya parvat. Palitana temples are one of the sacred and holy pilgrimage places in Gujarat and India. There are cluster of Jain temples in shikhar of Shetrunjaya parvat/hill and it is from over 900 years.





Adishwar temple, Adinath temples are on the top of the hill of Shetrunjaya parvat which is of 2000 ft, 3364 steps. There is one strict rule that no one can enter the temple and Shetrunjaya parvat at night. Guesthouses and Dharmshala's are provided for stay at Palitana. Shetrunjaya parvat is located in Palitana city and is at 59 km away from Bhavnagar city by road. Nearest airport is at Bhavnagar.

Visit also
1. Akshardham Temple, Ghandhinagar

2. Dwarkadhish Temple (Jagat Mandir),Dwarka, Gujarat