Online information about the Pushkar city of Rajasthan

Pushkar city of Rajasthan is the most preferable visiting place in Ajmer. Consisting three important creation like Pushkar Camel Fair, Brahma Temple, and Pushkar Lake, this sacred place attracts a lot of devotees from the whole world. To know more about the Pushkar city read the complete article bellow.


About the Pushkar city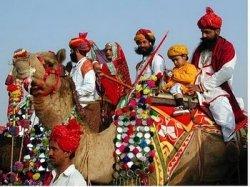 Famous Pushkar city is an important tourist place in Rajasthan. The place itself is an awesome legend behind its tourism. Pushkar is one of the most oldest cities in India. The legend history said that the place was constructed by Lord Brahma(Hindu deity). Moreover about this place, it is also said that once Lord Brahma had released a swan with a lotus in its beak to perform a Yagna where the lotus fell. Hence the lotus fell in Pushkar and that is how Pushkar get its name which means, "born of a flower". Now becoming a gigantic visited tourism destination, Pushkar is a important place of people all over the world.

Pushkar is also famous as a pilgrimage center in Rajasthan. It has the importance in the whole world only where a temple established, dedicated to Lord Brahma. Devotees gathers here to seek blessings of the Universal Creator from every corner of the world. Pushkar also contains many small temples and is situated on the banks of the beautiful Pushkar Lake. The huge Lake has about 52 Ghats where devotees gathers to take a dip in the holy waters. The most ancient temples in Pushkar were destroyed during plunders and wars. There are five major temples in Pushkar that were created in the recent past.

One other major attraction of Pushkar is the Camel Fair that takes place every year with a delighting manner. Thousands of people visit this superb festival to buy and sell livestock and to feel an enjoyment in heaven.

Tourists can be easily reached in Pushkar city by roads and railways. Jaipur airport is the nearest airport which is located at a distance of 138 kilometers.

The most preferable time for observing this place is from October to March. A great combination of three awesome creation Pushkar Camel Fair, Brahma Temple, and Pushkar Lake attract most of the visitors throughout the year.