Information on Hawa Mahal of Rajasthan

In this article I have provided information on the famous Hawa Mahal situated in Rajasthan. I have provided details on the history, construction and tourist information on the Hawa Mahal.


Hawa mahal is a famous palace situated in Jaipur, the capital city of Rajasthan. The Hawa Mahal was built by Maharaja Sawai Pratap Singh in the year 1799 and was made in the form of crown of Lord Krishna. The architect in charge of designing the Hawa Mahal was Lal Chand Ustad.


History of Hawa mahal of Rajasthan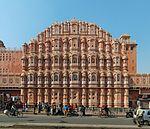 The palace was first planned by Maharaja Sawai Jai Singh the king of Kachawaha clan but it was built and finished by his grandson Sawai Ujjawal Singh. The Hawa Mahal was designed in such a manner that one can see the proceedings outside the Hawa Mahal without being seen. It was so designed because royal ladies in those times had to observe the purdah system quite strictly. Also the unusually shaped and many windows allow cold air to come in through and is preferred by the royal family to chill out in a hot summer day.


Construction and architecture of Hawa mahal (Rajasthan)

Hawa mahal was designed and constructed by Lal Chand Ustad and special instructions were given to create it in the form of Lord Krishna – Hindu God's crown. Many windows are provided in the palace in the form of small honeycombs with a total number of 953 wooden windows known as Jharokhas. The windows are endowed with lattice work such that the person can look outside while being un noticed by the outsider.

The palace is a five storey building with a pyramidal shape. The Hawa mahal is 50 feet high from the base and is a combination of Rajput and Mughal architecture. The Hawa mahal is built of red and pink sandstones and is situated in the heart of Jaipur city.

The Hawa mahal has recently received renovation by the government and an estimated cost of Rs 45 lakhs has been utilized to give it a face lift.


Hawa mahal, Rajasthan- tourist information

The Hawa Mahal is located in the south of Jaipur city at the main four road intersection. (Badi chaupad) Hawa Mahal is easily accessible from the local bus station, railway station and the Jaipur airport (13 kilometers). The Hawa mahal can be accessed by visitors and photography is also permitted.