Movie Review: We Are Family

We Are Family is claimed to be the first official Bollywood adaptation of a Hollywood movie Stepmom. Here I would like to discuss about the story, star cast, and crew of We Are Family.


We Are Family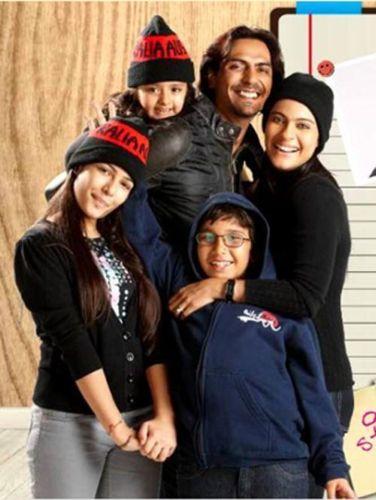 Based on 1998 Hollywood movie Stepmom, We Are Family (WAF) is the first official Bollywood remake of Hollywood film. In this movie, performances of both, Kajol and Kareena Kapoor, are very prominent. They have put a lot of efforts on the subject of this movie.

This time Karan Johar has chosen debutant director Siddharth Malhotra for his film. Kajol and Kareena have enacted as the lead stars in this movie. One can refer this movie as 'Women Oriented'. Earlier the movie title was 'Love You Maa', but later on We Are Family was finalized.


The Story of We Are Family

We Are Family is the story of a mother, her three children, a confused father and a stepmom. Maya (Kajol) has played the character of supermom in this movie whose life revolves around her three children, Aleya (Aanchal Munjal), Ankush (Nominath Ginsburg), and Anjali (Diya Sonecha).

Maya always thinks of about her children. She wants that her children should be well nourished and should always stay away from the problems. Having been divorced from his husband Aman (Arjun Rampal), Maya always wishes good for Aman and children and ensures that they remain a happy family unit.




Here comes a twist. One day Aman introduces his girlfriend Shreya (Kareena Kapoor), a career oriented woman, to Maya. Shreya has a lot to learn about the children and the family. Maya comes to know that Shreya is doing an experiment with children to know them well. Thereby, Shreya starts to stay with the family to become a responsible mom.




Maya treats Shreya very carefully for the well being of children. Aman starts to live at home for most of the time despite having a busy official life.

Suddenly Aman has to go out of town because of his work. Back home his life takes an unexpected turn. He has to confront unusual situations. He does not wish to do the same with Shreya as happened with Maya in the past. In this situation Maya does everything to get along with Shreya to bring everyone together and make a happy family again.




Despite their differences, the two women confront each other under the same roof to make a happy home and say – We Are Family.


Viewer's Rating of We Are Family


All-in-all, We Are Family has everything which amuses the audience and keeps them spellbound for the entire duration of the film. It has humor, emotions, splendid performances, and eye-catching locations. My rating for the movie is 4 out of 5.



Star Cast of We Are Family

Arjun Rampal as Aman
Kajol as Maya
Kareena Kapoor as Shreya
Aanchal Munjal as Aleya
Nominath Ginsburg as Ankush
Diya Sonecha as Anjali


Crew of We Are Family

Director: Siddharth P. Malhotra
Producer: Hiroo Yash Johar & Karan Johar
Co-Producer: Apoorva Mehta, Parth Arora
Music: Shankar-Ehsaan- Loy
Background Music: Raju Singh
Story / Writer: Gigi Levangie
Lyricist: Irshad Kamil, Anvita Dutt Guptan
Cinematography: Mohanan
Dialogue: Niranjan Iyengar
Editor: Deepa Bhatia
Choreography: Bosco Caeser, Geeta Kapoor
Screenplay: Venita Coelho
Singers: Rahat Fateh Ali Khan, Anushka Manchandani, Suraj Jagan, Akruti Kakkar, Vishal Dadlani, Shankar Mahadevan, Sonu Nigam, and Shreya Ghoshal