GKB Opticals Mumbai Eye Care Accessories

Article on GKB Opticals Mumbai Eye Care Accessories provides you with detailed information on GKB Eye Care Products like Frames, Lenses, Sunglasses and Contact lenses various testing equipments at Digital eye testing labs.


GKB Opticals Mumbai Eye Care Accessories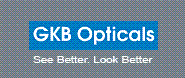 GKB Opticals Company Profile

GKB Opticals is a well-known and largest lens manufacturers in India, was established in the year 1959 at Agra, which has developed itself into biggest retail outlets which has a large network of retail outlets situated at various places. Various products of GKB Opticals includes Frames, Spectale Lens, Lens Treatment, Sunglass and Contact Lenses. For elegant look and style, for all your eye care accessories you have the right shop which is none other than GKB Opticals.


GKB Opticals Showroom and Infrastructure

Each and every GKB Opticals showroom in Mumbai is well equipped with state of art Digital Eye Testing Clinics in Mumbai managed by highly expertised optometrist and qualified staffs who provides assistance to customers in choosing perfect spectacles for their eyes. GKB Opticals has more than 58 showrooms across 19 cities and is in the eye care business for more than 50 years.


Brands available at GKB Opticals Mumbai

You can find a range of brands at GKB Opticals to choose from which includes Marco, Inspira, Sun Drive, Brendro Salvani & Miyabi. It also includes GKB Opticals international brands such as Hugo Boss, Tommy Hilfiger, Levis, Cartier, Swarovski, Versace, Mont Blanc, Seiko, Rodenstock from Germany, Vogue, Rayban, Police to name a few.


GKB Opticals Eye Testing Facilities and Importance of Eye Examination

Eyes and eye contact plays a major role in body language of human as it plays a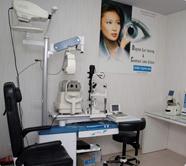 major part in communication which is the most expressive part as people do read eyes and it tells you what you have in your mind. To have a healthy vision there comes examination of eyes. In a busy and mechanical atmosphere people often neglects or they might not aware of the importance of having an eye examination. Lot of people suffer from vision problems due to stress, prolonged use of computers, strenuous work pressure etc. Earlier detection is always better to avoid the risk of various eye diseases and vision loss. Hence it is important to have a regular eye check up as eyes are precious and one have to take care of this most sensitive part and GKB Opticals have all the necessary latest equipments to test your eyes by experts of the field and they will suggest you a good treatment by providing suitable accessories for your eyes whether it might be a spectacle lens or contact lens.

Here you have all latest testing equipments such as Chart Projector of GKB Opticals which gives the customers a clear screen to read the distant objects. Digital Phoropter of GKB Opticals is digitally controlled which have an accurate lenses for precise eye testing. Autorefractometer of GKB Opticals helps in determining the accurate power of the eye and Slit Lamp of GKB Opticals is used to evaluate eye health and in the assessment of fitness of contact lenses.


GKB Opticals Products

There is a saying that 'Eyes are the mirrors of soul'. GKB Opticals provides its customers with various types of Eye Care Accessories which includes lenses, Frames, Sunglasses and Contact Lenses.

GKB Lenses: Lenses at GKB Opticals are designed in a way to suite modern trends of lifestyle with Lite Wear range of Polycarbonate Lenses. Lite wear lenses of GKB Opticals are 30% thinner and ten times stronger than normal plastic lens. It has a scratch resisting coating and it is 100% UV protection against sunlight and the lens are made out of strong material and they do not break under any shocks. If you would like to choose rimless frames then you can go for Resolution lenses from Optima which is made of Optima's ECM-9 process and it more thinner and lighter than standard polycarbonate lenses. GKB Nova Internal Progressive Lenses offers wide vision technology which provides visual expansion at far range as these frames with lenses rest closer to the eye. To get protection from glare go for GKB Rx Sunlenses a Polarized Sunlenses which is customized according to customer's prescription and needs and are designed in such a way that it eliminates glare from the sun which gives you soothing effect to your eyes.

GKB Frames: GKB Opticals satisfies every kind of customers right from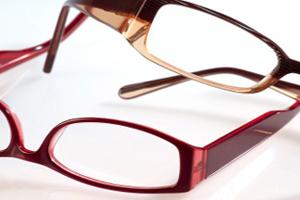 budget conscious people to brand conscious persons alike, as it has a wide range of frames. Customers have options to choose from GKB's Own Brands of frames which includes inspira, Ivux, Miyabi, Brendo Salvani to name a few. Having customers in mind GKB Opticals have come with Brendo Salvani of GKB Exclusive range of frames that suites almost every type of skin and Titanium Ivux of GKB Exclusive made with materials of Titanium which gives the customers a pleasant experience with a comfort. GKB has Rodenstock 18karat exclusive gold frame to suite people of higher classes or brand oriented people.

GKB Sunglasses: Nowadays people are fashion oriented and as GKB Opticals knows about their customers preferences GKB trendy sunglasses which not only serves fashionable eye wear accessories but also designed to protect the eyes from glare. Marco & Sundrive Sunglasses of GKB Opticals are at its best in UV Protection which reduces eye stress and gives glare free vision.

GKB Contact Lenses: Some people might feel awful and shy wearing framed lenses but they need not in the case of GKB Frames and Lenses but even to satisfy those customers GKB Opticals provides various types of contact lenses like soft contact lenses, semi-soft contact lenses, conventional lenses and disposable lenses. Nowadays for fashion purpose contact lenses comes in variety of colours in order to enhance the eye colour and these coloured lenses of GKB Opticalsare avilable with and without power.


GKB Opticals Mumbai - Discount and Promotional Offers

To promote their products GKB Opticals announces great discount offers from time to time for selected models of frames, lenses and for sunglasses. We will update you soon with discount offers from GKB Opticals if announced.


Are you looking for various GKB Optical Retail outlets and Showrooms in Mumbai?

Here you can find the various GKB Opticals Retail Outlets and Showrooms