The Maddipatla Family (Pawan) Wife Bina Life Contestant Participant Profile

Article about Star Plus Reality Show Wife Bina Life Contestant profile.


The Maddipatla Family (Pawan) Wife Bina Life Contestant Participant Profile


The Maddipatla Family in Wife bina Life is one of the Wife Bina Life Star Plus Reality show Participants & Contestants.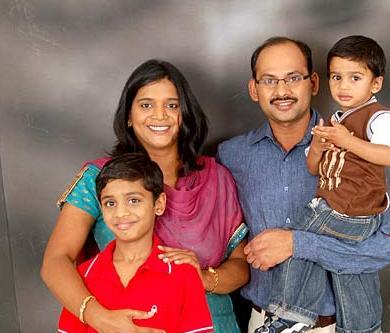 The Maddipatlas Family belongs to Andrapradesh. Pawan Maddipatla (Wife bina Life) is a jovial person and has an ever-smiling face. He joins with his family in household chore by making bed-tea for his wife and used to take care of the kids in a jolly way and Maddipatla family kids in Wife bina Life loves his father for his sweet nature. Whenever he finds time he makes use of it utmost in spending his time with the kids, play with them and in this way he maintains a jovial relationship with his family.

Bhargavi Maddipattla Wife bina Life, the wife of Pavan is a strict mother, and she wants to be strict in order to keep the family in balance, as in a family, if a father is too lenient the mother ought to be strict. The Family of Maddipatla knows the secret of how to balance things to have a healthy relationship.


Pavan Maddipatla Biography Personal Profile
Age of Pavan Maddipatla Wife Bina Life Participant: 35 years

Pavan Maddipatla profession career Wife Bina Life Contestant: IT Professional

Bhargavi Maddipatla Profession Wife Bina Life Contestant: Homemaker

Pavan Bhargavi Maddipatla Kids / Children (Wife Bina Life): Nikhil (9 years) and Nishan (2.5 years)
Pavan Maddipatla's Education
Andra University 1991 - 1995

University of Mumbai
Pavan Maddipatla's Professional Career

Pavan Maddipatla Past Work Experience

Manager, Software Development at Nevis Networks India Pvt. Ltd

Sr. Software Engineer at Kuokoa Networks

Software Engineer at Switch On Networks

Pavan Maddipatla Current Position: Software Engineering Manager at LSI


Pavan Maddipatla Favourites


Pavan Maddipatla Favourite Movie: Titanic, The Lord of the Rings, Dilwale Dulhania Le Jayenge, The Gods Must Be Crazy

Pavan Maddipatla Favourite Book: The Davinci Code

Pavan Maddipatla Favourite Music: Michael Jackson


But now as far as Wife Bina Life Star Plus Reality Show is concerned, Mrs. Maddipatla have doubts regarding the cooking skills of Pawan and how he is going to manage their younger son Nishant who needs his mother Bargavi. Let us wait and see in this Star Plus Reality Show, how Mr. Pavan is going to manage all the household works in a single handed while Bargavi will be away for a vacation. Let's see further in this reality show of Wife bina Life whether he is able to come out successfully.