India Paralympics Swimmer Prasanta Karmakar Biography Profile Career Photos

This article gives complete information on differently abled Indian swimmer Prasanta Karmakar, about his career, training, coach, personal life, and future goals.


It was a hear-warming sight to see Indian Paralympic swimmer Prasanta Karmakar winning the bronze in the 50m freestyle in 27.48 seconds, finishing behind Australian swimmer Matthew John Cowdrey and Jay Simon Miller (England). Prasanta Karmakar started quickly off the blocks at the Dr.S.P.Mukherjee Swimming Stadium, Delhi, thus having an advantage over medal-favourite Australian Benjamin Austin, whom he eventually out-swum with some powerful strokes to grab third place. His achievement created 2 records: Prasanta Karmakar is the very first Indian to win a medal in aquatics at the Commonwealth Games. He is also the first Indian ever to win a medal in aquatics at a major international competition since Khajan Singh, who bagged a silver medal at the 1986 Asian Games. Prasanta is currently ranked Asia No.3 in four events: 50m freestyle, 100m freestyle, 100m backstroke and 200m individual medley.

The Paralympics are sporting competitions for differently abled athletes. Swimming was first introduced as a Paralympic sport at the 1960 Rome Paralympics. In paralympic swimming, the swimmers are classified based on their functional ability to perform each stroke and type as well as the extent of their disability. Thus those with a similar level of function can compete against each other in an event.

Prasanta Karmakar is currently ranked Asian No. 3 in the world in the S-9 category. Besides Prasanta Karmakar, the other well-known Indian Paralympic swimmer is 19-year-old Sharath Gayakawad, who is ranked 16th in the world in his category for 50m freestyle swimming.


Prasanta Karmakar Biography Profile Career

Born in Kolkata, West Bengal, at age 7 Prasanta had an unfortunate accident which left him bereft of his right hand. His favourite sport was swimming which he initially took up as a recreational past-time. At the 2006 Asian Games, he unexpectedly won a bronze medal. He considered it to be the most memorable achievement of his career as he had competed against the toughest swimmers in Asia. It was on winning the bronze medal that Prasanta decided to take up swimming seriously as a professional. His potential was recognized in the 11th Standard, and from then onwards he underwent training with different coaches. However, he was very angry at the cavalier treatment of the West Bengal Government, who refused to give him any financial or other support and merely congratulated him for his win. It was then that he decided to shift base from West Bengal to Haryana. He later trained at Bengaluru.

Eventaully Prasanta was to find his best mentor and coach: Nihar Ameen, the head coach at the K.C.Reddy Swimming Centre Bengaluru. Under Ameen's able guidance, Prasanta went from strength to strength, improving on this timings and winning accolades and medals. Just this year, at the IWAS Games in Bengaluru, Prasanta won 4 gold, 2 silver & 1 bronze medals. To date Prasanta has won 22 international medals!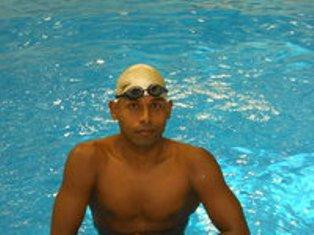 Prasanta Karmakar Goals Dreams

Much before the 2010 Commonwealth Games Delhi, Prasanta Karmakar had confidently said that India would win at least one Paralympic medal. It was his dream not just to win a medal for his country, but also improve on his own timing that he had clocked in the last German Championships - 27:92s. Prasanta fulfilled his dream in style, winning the bronze in 27.48 seconds at the 2010 Commonwealth Games.

Prasanta Karmakar's coach Nihar Ammeen has another dream: to see his protégée win a medal at the 2010 London Paralympic Games. Prasanta aims to fulfil that dream.

However, Prasanta Karmakar has no desire to continue with his chosen career as a swimmer after the 2010 Paralympic Games. He realizes that he has been away from his family for far too long and he needs job stability.

In the meanwhile, Prasanta and other Paralympic athletes from India are vainly knocking at Govt. and sponsors' doors, seeking monetary help and support. Prasanta was lucky to be offered a scholarship by GoSports Foundation, one of whose officials had spotted him at the 2008 Youth CommonWealth Games in Pune where Prasanta had volunteered for the swimming events. GoSports Foundation subsequently offered to support Prasanta during his training stint at Bengaluru with Nihar Ameen. Prasanta hopes that with the bronze medal win at the 2010 Commonwealth Games, more sponsors come forward to support his swimming career.

Prasanta Karmakar's favourite swimming event is the 50m freestyle. And his all-time favourite swimmer? Ian Thorpe!

We wish Prasanta and all the other Paralympic athletes the very best and hope that readers who read this article will spread the word and help them get much-needed sponsors. The differently-abled athletes need as much goodwill and support as the abled ones.