India Gate Delhi- Places to visit in New Delhi

Planning to visit India Gate? If yes, read this article about India Gate to know more about its location and timings, history and importance, annual events, Republic Day events at India Gate, eat-outs near India Gate, India Gate tourist attractions and many more!


India Gate situated in the heart of Delhi, the capital city of India is a war memorial to honour the Indian soldiers who lost their lives during the second world war. This was designed by Sir Edwin Lutyens, a British architect. India Gate constructed in the year 1931 was known to all people as the All India War Memorial. If you get a chance to visit this beautiful monument in Delhi, never miss your chance.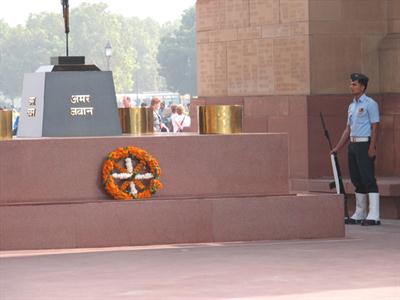 Remember that this national monument of our country is located at less than a mile from Connaught Place in Delhi. This is considered to be the major tourist attraction of our capital city. I will provide you the easiest ways to reach India Gate so that it might be helpful for you while planning the trip. What may be the specialities of such a national monument? I am sure you might have a little curiosity to know more about it. Before going into such details, I guess it will be good for you to know some history regarding it.

The Duke of Connaught in 1921 laid the foundation stone of this monument while the then Viceroy, Lord Irwin dedicated this magnanimous structure to India in 1931. When you go closer to this national monument of our country, you might be surprised to see that this was made of red and pale sandstone and granite. Here is a picture of India Gate, which we had taken during a delhi tour. Located on the Raj Path in New Delhi, this India Gate is 42 metres tall. By looking at the huge walls of this national monument , you will be able to reveal the names of around 90,000 soldiers who died during the world war 1 and Afghan war. An eternal flame or Amar Jawan Jyoti was lit under the arch of India Gate in 1971 to honour those soldiers. You might be able to see that this flame is guarded by uniformed soldiers. As a tribute to those soldiers who lost their lives, a shining rifle crowned by a soldier's helmet is placed on a high pedestal near the flame Also above on both sides of this national monument, is inscribed INDIA, flanked by MCM and to the right, XIX..


India Gate annual events

As India Gate is considered to be the national monument of India, some annual events are also conducted there. Some examples of annual events held at India Gate include the Republic Day Parade and Swar Utsav.

Republic Day Parade:
India celebrates Republic Day every year on 26 January. On that day, the Indian President places a wreath at the eternal flame Amar Jawan Jyoti to show his/her respects to our armed forces who lost their lives for the sake of our country. Following this, there will be a grand parade that moves along Rajpath, which comprise of marching contingents, tanks and weapons, folk dances and school children from different parts of India. Republic Day Parade live is telecasted by all Indian channels
Swar Utsav:
Swar Utsav is a three-day musical extravaganza, organized by the Delhi Tourism on the lawns of the India Gate. This is an event that showcases the performance of the best Indian classical musicians
Tourist attractions near India Gate
By going through the above mentioned points, I hope you all got important informations regarding India Gate. But I know whenever we plan a trip, we prefer important attractions located very close so that we can save our time. My opinion is you must see India Gate when planning a Delhi tour. To make your tour more comfortable and enjoyable, I will provide the details of some tourist attractions located very close to it. One can see lush green lawns and childrens park around the India Gate. Some tourist attractions are the Rashtrapati Bhawan, Parliament House, National Museum, National Gallery of Modern Art, Connaught Place, Central Cottage Industries Emporium and Baba Kharak Singh Marg. I think it will be better to mention some important facts regarding these attractions. Rashtrapati Bhawan is the official residence of President of India. If you wish to visit the place where Indian Parliament meets, definitely you must visit the Parliament House. As the name indicates National Museum contains an extensive collection of historical artifacts. On the otherhand National Gallery of Modern Art exhibits around 4,000 paintings, graphics, and sculptures of modern artists. We women are always fond of jewelries and clothings. There is a perfect place for you which offers jewelries, International as well as Indian clothings. If you are fond of this items, then definitely you must visit Connaught Place. Try to enjoy shopping also while seeing some important attractions. I forgot to mention about some popular eat-outs near India Gate. Hotel Inter-Continental, Imperial Hotel and Hotel Le Meridien are the popular places where you can enjoy breakfast, lunch or dinner.

Time to visit India Gate:
I know after reading this article upto this point, you are ready to see India Gate. But is there any timing to see this national monument? If you are visiting Delhi for the first time, then this doubt may arise in your mind. Let me tell you a fact. This monument of our country is opened on all days to all people. There is no admission fees. But you may require atleast an hour to look around this national monument.

How to reach India Gate?:
The nearest airport to India Gate is the Indira Gandhi International Airport in Delhi. You can either take local buses, auto-rickshaws, taxis or the metro rail to reach this India Gate. The nearest functional Metro station to India Gate is Kendriya Terminal, while the nearest railway station to India Gate is the New Delhi Railway Station.