Biography of Jayanta Talukdar, Assamese archer in London Olympics 2012

Are you interested to know more about Jayanta Talukdar, the popular Indian archer? If yes, read this wiki biography of Jayanta Talukdar to know more about his profile, how to contact Jayanta Talukdar, residential address, archery career, archery performances and awards, Jayanta Talukdar in London Olympics, Indian archers in Olympics 2012 and many more!


Indian archer Jayanta Talukdar from Assam will be representing India at the archery events of 2012 Summer Olympics in London, UK. Basically he is from Guwahati, Assam. He is considered to be the third sportsperson from Assam to receive the Arjuna award. Others were Bhogeswar Baruah (1966) and Monalisa Barua Mehta (1987).Archery is considered to be an ancient game in India. Some of the popular faces in Indian archery were Limba Ram, Satyadev Ram, Dola Banerjee and many more. This was the past connected with archery in India. Now we have youngsters trying their best in archery. From this Jayanta Talukdar wiki biodata, you will be able to get more information regarding him.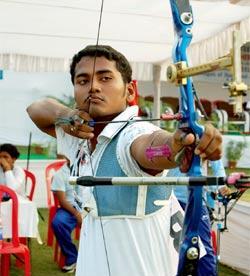 Personal information of Jayanta Talukdar
Date of birth of Jayanta Talukdar: 2 March 1986
Present age of Jayanta Talukdar: 26
Place of birth of Jayanta Talukdar: Assam
Idol: Cricket legend Sachin Tendulkar

You can contact Jayanta Talukdar in the residential address mentioned below.
Jayanta Talukdar,
H.No.03, Homoepathic College Road,
Panjabari, Guwahati,
Assam state, India


Jayanta Talukdar biography

Jayanta Talukdar is considered to be a promising and future player of archery in India. Born as the youngest son of a quarry owner in Assam, he was not even aware of the sport until archery selectors spotted him in a talent hunt trial held in Guwahati. After getting training from the Tata Archery Academy Jamshedpur, he found a place in the Junior National Archery Team of India. India Government honored Jayanta Talukdar with Arjuna award for his excellent performance in archery. Given below is the archery career of Jayanta Talukdar at a glance.


International performances and awards of Jayanta Talukdar, archer
2004- Jr. World Archery Championship- London- Team silver
2005- 43rd Sr. World Archery Championship- Spain- Team silver
2006- 1st World Cup- Croatia- indiv.Gold
2006- 15th Asian Games- Doha- Team bronze
2007- 15th Asian Archery Championship- China- Team gold
2008- 2nd World Cup- Croatia- Team bronze
2008- 3rd World Cup- Turkey- Team gold
2009- 1st World Cup- Santo Domingo- Team gold
2009- 2nd World Cup- Croatia- indiv. gold, Team gold
2009- 3rd World Cup- Turkey- Indiv. bronze, Team silver
2009- World Cup Grand Finals- Denmark- indiv 4th
2009- 16th Asian Archery Championship- Indonesia- indiv. Bronze, Team silver
2010- 1st World Cup- Croatia- Team silver
2010- 2nd World Cup- Turkey- Team gold
2010- 4th World Cup- China- Team gold, Indiv. Bronze
2010- Asian Games- China-Team bronze
2011-1st World Cup- China- Team bronze
2011- 2nd World Cup- Turkey- Mixed silver
2011- World Championship- Italy- Indiv. Qualified for London Olympics 2012
2011- 3rd World Cup- USA- Mixed silver
State and national level performances of Jayanta Talukdar
2005- 14th Asian Archery Championship- India- Team silver
2006- Common Wealth Championship- India- Team gold
2010- Commonwealth Games- India- Team bronze
Image courtesy: facemaza.com