Ashach Eka Betavar Getting Ready For A Grand Release

Ashach Eka Betavar Marathi movie will be releasing on 8th February 2013. Being the directorial debut of Sanju Hinge, the movie is based on 'And Then There Were None', a famous novel written by Agatha Christie which was published 70 years ago, 'Ashach Eka Betavar' has been produced by Leena Nandgaonkar, Javed Pathan and Diwakar Sawant. For the lyrics of Milind Joshi, Rohini Ninawe and Sadanand Dabir Milind Joshi have tuned the songs.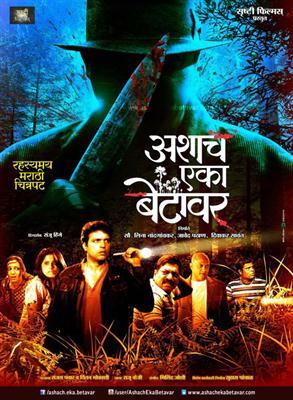 With a range of new subjects and innovative themes, Marathi Cinema is getting noticed by movie lovers. With 8 movies released in 2013 January, there are too many projects which currently under pre production gearing up to reach theatres soon. Even though a number of films focusing on thrilling mysteries made in Hollywood and Bollywood, it is rarely seen in the realm of Marathi cinema.

The Marathi audience will have to wait till 8th February, the day on which 'Ashach Eka Betavar'; a mystery-thriller gets released. The movie is an adaptation of a detective fiction novel 'And Then There Were None' written by the world famous novelist Agatha Christie published 70 years ago. The novel was recorded as the world's bestselling books of all time which clocked 100 million sales till date.

Sanjay Pawar and Chintan Mokashi have done the screenplay of 'Ashach Eka Betavar' which tells the tale of a group of people who arrive from Mumbai at an isolated bungalow which is located at an inhabited island. Nine different men and women who came in search of a mystery had to face a series of unexpected events. Each night will be followed by a frightening event which ensures a series of breathtakingly incidents. The audience will have a thrilling experience while travelling through a spectacular mystery wrapped in 'Ashach Eka Betavar'.

To be produced by Leena Nandgaonkar, Javed Pathan and Diwakar Sawant under the banner of 'Shrushti Films', will be something special for the audience who will have a real life experience of a mystery-thriller. Leena Nandogaonkar, the producer of the movie is a known actress who had proved her mettle in dramas and films. Sanju Hinge, who has 25 years of experience as a fashion and industrial photographer, is making his directorial debut with 'Ashach Eka Betavar'.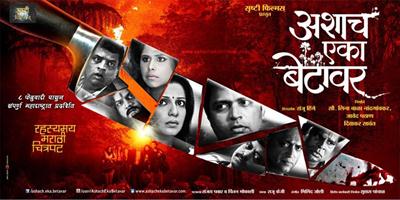 The thrill and excitement can be experienced from the vibrating tunes set by Milind Joshi for the lyrics penned by Rohini Ninawe, Sadanand Dabir and Milind Joshi. Devaki Pandit and Mahalaxmi Iyer have lent their voice for the songs. The cinematography of the film had been safe in the hands of Raju Kayjee while Rajesh Bidwe and Amol Mujumdar were behind the choreography.

Shot at majestic locations of Alibaug, the leading characters would be given life by Ankush Chaudhari, Sanjay Narvekar, Madhura Welankar, Sai Tamhankar, Yatin Karyekar, Sharad Ponkshe, Sanjay Mone, Mangesh Desai, Kamlesh Sawant and Poonam Jadhav.

So get ready to grab your seats for one time life experience with a mystery-thriller which reach theatres on 8th February.