World Cup trophy lifted by Team India is a fake?

Latest news says that the world cup trophy lifted by India is duplicate, ICC is yet make clarification on the issue of Fake world cup presented to India


India Presented Fake World cup trophy
Why ICC does this to Team India?? ICC who does all favours to India in winning the 2011 cricket world cup now Presented the
A fake World cup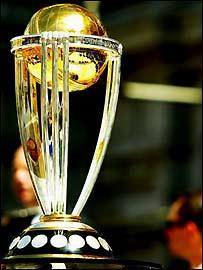 trophy to India
. According to the media reports the Trophy which was presented to Team India at Mumbai was just a
replica of the original trophy
Actually World Cup trophy which received by Australia in 2007 world cup was made of Pure gold and Silvers, the question over the fake world cup trophy arose when, the team noticed that the ICC logo and Champion team logo was missing from the Trophy presented to Team India. The original ICC trophy will have the names and Logos of champion teams of all world cups depicted on it.
The Unconfirmed reports suggest that the Original trophy is in the hands of customs as ICC failed to pay the amount of 15 lakh as customs duty. But ICC had denied the reports over the
fake world cup,
ICC officials in the their press report said that the World cup trophy presented to team India was the original one and the reports over the fake world cup trophy is just a media allegation raised against the reputed office of ICC