Information Portal of Tiruchirappalli District Tamil Nadu

This article will serve you as a sitemap of Trichy City at a glance and gives complete information on Tiruchirappalli district of Tamil Nadu where you get all information on culture, tradition, education, hotels, famous personalities and places of interest in Trichy and many more


The Tiruchirappalli district in Tamil Nadu (Tamil: தி௫ச்சிராப்பள்ளி) is one of the district of Tamil Nadu also called by the name Trichy which serves as the administrative headquarters of Tiruchirapalli district. Trichy is located on the banks of river Cauvery and it is the fourth largest city in Tamil Nadu. The name of the city Tiruchirappalli comes from the three headed demon by the name Trishira one of the sons of Ravana who penanced at Trichy and got favours. Another legends associated with the name Tiruchirappali is that there was a Saint who established a school and Tiru is a honorary prefix given to the Saint whose name was Chira. Thus the name of the city Tiruchirapalli is the combination of three words (Tiru - honoric prefix, Chira - is the saint name , and tamil word Palli means school). As Tiruchi is surrounded by many districts it is considered as the heart of Tamil Nadu. The city occupies a special place in the history of Tamilnadu as trichy is famous during Sangam Age which served as the centre of fine arts. 'Uraiyur' the suburb of present Trichy was served as the capital of the Early Cholas.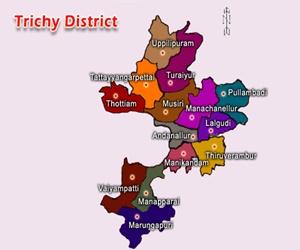 Trichy is one of the most fertile tracts of Tamil Nadu by the nourishment of the river Cauvery. Trichy enjoys the advantage of both the adjoining districts Coimbatore and Thanjavur in terms of industry and agriculture. The city boasts a good economy from handloom industy of Karur, Railway workshop at Golden Rock, sugarcane mills at Pugalur and Pettaivaithalai, Boiler Plant at Tiruverumbur, Cement Manufacturing factories at Dalmiapuram and Puliyur, BHEL, leather good from Sembattu. Apart from these Trichy is famous for cigars, Gem cutting industry, artificial diamonds, imitation jewellery glass bangles, wooden and clay toys. Tiruchirappalli is Situated at a distance of 319 kilometers south of Chennai and it is bounded on northeast by Perambalur district, south by Madurai district and west by Karur district. In 1995 Tiruchirappalli district is trifurcated to Trichy, Karur and Perambalur.


Area of Trichy district, Tamil Nadu: 5114 km2

Literacy Rate of Trichy district, Tamil Nadu: 79.62%

Major rivers: Cauvery, Kollidam

Taluks of Trichy district: Manapparai, Srirangam, Tiruchirapalli, Lalgudi, Manachanallur, Thuraiyur, Musiri and Thottiyam.

Major Crops of Trichy district, Tamilnadu: Rice, Sugarcane, Cotton, groundnut, Banana

PIN (Postal Code) of Trichy district Tamil Nadu: 620xxx

STD Code of Trichy district, Tamil Nadu: 0431
Trichy Education - schools, colleges and universities

Trichy is considered as an educational city and it boast great number of universities such as Bharathidasan University, SRM University, Prist University to name a few and it has immense number of colleges and schools around the city and some of the famous colleges in trichy includes The National Institute of Technology, St. Joseph's Trichy where our former President Dr.A.P.J. Abdul Kalam did his graduation. Here we have listed some of the best colleges and schools in Trichy which may be of helpful to you.




Hotel & PG accommodation in Trichy, Tamil Nadu

One can relish lip smacking South Indian food at Trichy and it is well known for Chettinad cuisines and as Trichy is an educational centre a number students will look for PG accommodation in Trichy. Here you can find a list of best hotels in Trichy.


How to reach tourist places in Trichy, Tamil Nadu

Trichy is well connected with all major places of Tamilnadu. Trichy junction has a good structure which is linked with major cities like chennai, Madurai, Thanjavur, Bangalore etc. The Trichy airport provides flight services to Chennai, Bangalore, Sharjah, Kuwait and Colombo. There are a number of tourist attractions in Trichy and Temples at Trichy is second to none in terms of religion. It has a considerable number of churches, mosque and temples. Here we have listed up some articles on Trichy tourism.

Famous Personalities of Trichy, Tamil Nadu


Hema Malini, actress

Sir C.V. Raman, Noble prize winner, physicist


To know more about Trichy, you can refer our online information guide to trichy