Chettinad Vegetable Curry Recipe Pala Kottai Varuval Jack Fruit Seed Fry

This article is about the traditional Chettinad recipe made from Jack fruit seed. Read this article and get to know the preparation method of Palakottai varuval in your kitchen.


Tamilnadu Chettinad Vegetable Curry Recipe Pala Kottai Varuval

Pala Kottai Poriyal is one of the popular Tamilnadu side dish recipes which can be prepared only during Jack fruit season. This is the season for jack fruits so I have given you this seasonal recipe. This Pala Kottai or jack fruit seed can be cooked along with potato too. This is a traditional Tamilnadu recipe which tastes well with sambar, rasam and curd rice.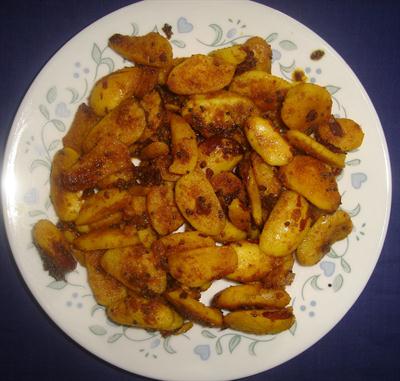 Ingredients to make Chettinad Pala Kottai Varuval

Palakottai-30
Chilli Powder – 1 tsps
Coriander Powder – 2 tsps
Turmeric powder-1/2 teaspoon
Mustard seeds – ½ tsp
Onions - 2


Procedure to make Tamilnadu Side dish Pala Kottai Varuval
Clean the Pala Kottai well with water and pressure cook with half cup water and salt.

Now peel off the brown skin of pala kottai.

Heat oil in a kadai and splutter the Mustard seeds.

Now add curry leaves and finely chopped onions and fry for a while till the onions turn golden brown in color.

Now add all the powders listed above and fry for a while.

You can add oil if necessary, now add the pala kottais and fry well for about 10 to 15 minutes in low flame.

Add oil around whenever needed and do not add water.

Now the Pala Kottai Varuval or Pala Kottai fry is ready.
Serve hot with Sambar, rasam or any variety rice.