Tamilnadu Mangai Vellam Pachadi Recipe

Get to know the preparation method and the ingredients needed for making traditional Tamilnadu Pachadi variety "Mangai Vellam Pachadi" in a easy and simple way.


Tamilnadu Pachadi Recipe Mangai Vellam Pachadi
Mangai Vellam Pachadi Recipe, Mango Jaggery sweet sidedish recipe

Mangai Vellam Pachadi is one of the traditional pachadi recipes which will be loved by everyone. This dish is favorite for children and Pregnant women. Try this at your kitchen and enjoy with your family.

Tamilnadu special recipes
Tamil recipes
Tamilnadu festival recipes
Tamilnadu Breakfast recipes


Ingredients to make Mangai Vellam Pachadi, Green mango pachadi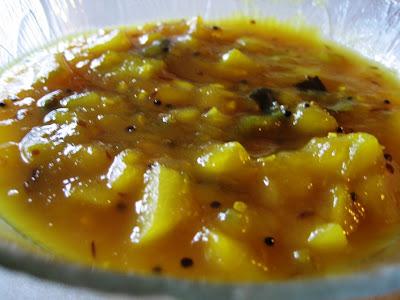 Mango -1
Jaggerry-100 to 150 gms
Moong dhal -4 table spoons
Green chili-1or2
Turmeric powder-1/2 teaspoon
For seasoning
Mustard seed-1 teaspoon
Curry leaf-little
Red chili-1


Procedure for making Mangai Vellam Pachadi

1. Roast the dhal and pressure cook the dhal.
2. Peel the skin and Cut the mango into thin slices and pressure cook by adding half cup water along with the green chili, little salt and turmeric powder.
3. After the mango is done add the cooked moog dhal and jaggery.
4. Allow to stand till the jaggery melts.
5. Now smash everything with a ladle.
6. Season the pachadi with the ingredients given above.