Tamilnadu Quick Tomato Rasam Recipe

This is a easy to make traditional rasam recipe for beginners and Bachelors. Try this recipe at home and enjoy.


Tamilnadu Quick Tomato Rasam

Tomato Rasam is served hot with white rice in all the parts of South India. Rasam is a delicious recipe which is made of peeper and jeera which helps in digestion and also good for cold and fever. This is a easy to make instant rasam recipe from which you can make rasam without any rasam powder.


Ingredients to make Instant Tomato Rasam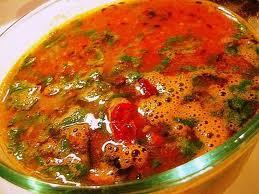 Tomato -1
Red chili-2
Garlic-7 pods
Pepper corns-1 ½ teaspoons
Small jeera-1 ½ teaspoons
Tamarind-little
Turmeric powder-1/2 teaspoon
Curry leaves &coriander leaves-little

You might also like:
Tamilnadu special recipes
Tamilnadu festival recipes


Procedure to make Instant Tomato Rasam
Grind the tomato, pepper, jeera, garlic, 1 red chili and turmeric powder to a coarse mixture in a mixie.

Add tamarind in 3 cups of water

Heat oil in kadai add cooking oil now add the mustard seed and allow to
splutter and then add jeera and little curry leaves.

Now add the grinded mix into the kadai, sauté till you get a nice flavor.

To this add the tamarind water and salt.

Bring rasam to a nice boil it may take 3 minutes.

Garnish with coriander leaves and serve with rice.