Billa 2 Movie Review First day First Show of Billa 2

This article gives you the review of Billa 2. Today is the first day and first show of Billa 2. Here is the review of Ajith Kumars most awaited film Billa 2.


Billa 2 Movie Review First day First Show of Billa 2
Billa 2 Team Members

Starring: Ajith Kumar, Parvathy Omanakuttan, Bruna Abdullah, Vidyut Jamwal, Sudhanshu Pandey
Direction: Chakri Toleti
Music: Yuvan Shankar Raja
Production: Suresh Balaje, George Pius, Sunir Khetrapal


Short Review of Ajith's Billa 2

Billa 2 is releasing today worldwide and has got lots of expectations from the cinema lovers. It is India's first prequel movie. The character David Billa is well-known from 1980s. The hero of Billa 2 Mr. Billa becomes the don and controls the whole domain the story is just how Billa got this control.

The first half of the movie is shot in coastal Tamil Nadu and the second part moves on to Goa. It is a very typical tamil film with the villain and a brave hero. The introduction scene of Ajith is a fighting scene and is enjoyed by the audience with an applause.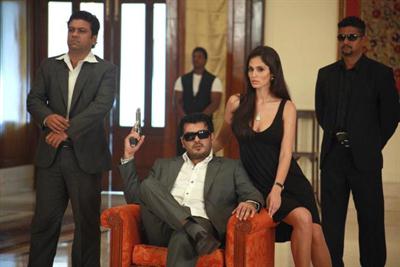 Highlights of Billa 2 tamil movie

The dialogues written by Era Murugan and Mohamed Zafar are very well written and it suits well for our Thala Ajith. They are good punch dialogues of Billa 2 with meanings the dialogue delivery by Ajith and the background scores are very well composed which pleases the Ajith's fans.
Some of the sample punch dialogues are as follows:
Na Agadhi da, Anaadha illa
Mathavanoda Bayam dan nambaloda Balam

The first half of the movie Billa 2 is good and the second half is not that much good. The two heroines of Billa 2 Parvathy Omanakuttan and Bruna Abdullah acting are good.

To know about the heroine of Billa 2 Parvathi-Omanakuttan read the below link:
Biodata of Parvathy Omanakuttan

The review is not complete and please wait for some more time to get the full review and rating in TSR.