Tamilnadu Side dish recipe Vegetable Saagu

This article gives you the method for cooking Vegetable Saagu in a very easy and simple way. This side dish recipe can be enjoyed with all Indian tiffin varieties.


Tamilnadu Side dish recipe Vegetable Saagu

Vegetable Saagu is a very popular side dish recipe which goes well with Dosas, Pooris or any other tiffin varieties. This is very good for health because it contains all the vegetables. Good for growing children and adoloscents. Try this recipe in your kitchen.


Ingredients to prepare Vegetable Saagu

1 cup of vegetables of your choice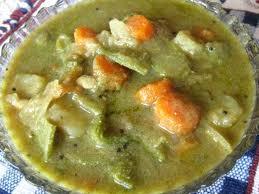 1 cup grated coconut
1 tbsp coriander seeds
1/2 tsp cumin seeds
2 tsps of Tamarind paste
8 green chillies
2 dry red chillies
1/2 tsp mustard seed
A sprig of curry leaves
A small bunch of coriander leaves
3 tbsp oil
salt to taste


Procedure to prepare Vegetable Saagu

1. Cut all the vegetables to small pieces and pressure cook for 2 whistles.
2. Fry coriander and cumin seeds and grind it with coconut, green chillies, red chillies, coriander leaves, tamarind paste and salt. You can also add water while grinding.
3. Add this ground paste to the cooked vegetables, mix well and let it blend well.
4. After it is well cooked add the remaining coriander leaves.
5. season this with mustard seeds and curry leaves.
6. Now the vegetable saagu is ready to be served with Chappathis, dosas, pooris, etc.