Aadi Discount Sale in Chennai Get great offers in this Aadi 2012

This article provides you the list of shops which offers great discounts for this Aadi. In this article you get to know the offers, sales, address details and much more about the shops which offer this great discount sales.


List of Aadi Sales Shops in Chennai

This is the Tamil Month Aadi which has got religious beliefs all among the tamil people.They consider this as a special month and the newly wed couples are given lots of seervarisais from the mothers house. So the shops offer great discounts during this period. Read the article to know about this discount sale in Chennai.


Aadi Discount Sale at The Chennai Silks

The Chennai Silks in Usman Road, T.Nagar has announced the Aadi discount sale from 1st of July to 16th of August. The discount ranges from 5% up to 50%. You can get good collection of chudidar materials, kurtas, pyjamas, kids collections, jeans, branded mens wear, etc.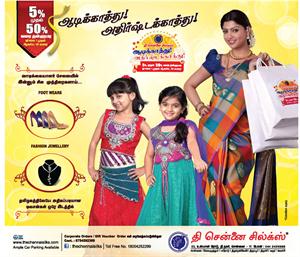 Contact Details of The Chennai Silks
The Chennai Silks
23, Usman Road
Chennai 600017
Tamilnadu, India
Tel : 044 2431 0888
Fax : 044 2431 1222
Email: [email protected]
Timing: 9:30am to 9:30pm (Sunday to Saturday)


Aadi Discount Sale at Sundari Silks, T Nagar

Sundari silks offers 50% discount sale in all types of dress materials. One can get good discounts on Festive Silks, Arani Silks, Pattu Sarees, Mysore Silk Sarees, Kanchipuram Silk Sarees, Traditional silk sarees, designer and cotton salwars, Pattu pavadai collections, Fancy and designer sarees etc.

Contact Details for Sundari Silks
Sundari Silks
38, North Usman Road
T Nagar, Chennai 600017
Tel : 044 2814 3093
Fax : 044 2814 3469
EMail : [email protected]
Website : www.sundarisilks.com


Aadi discount sale up to 60% Off at Westside

Westside offers very great discounts for this tamil month Aadi. It offers great discounts in men, women and kids wear. You can get good discount in Silk Kurtas, mix and match kurtas, Chudidars, jeans, etc. The offer will be on till 31st July, 2012.

Contact Details for Westside
Westside,Spencers Plaza Anna Salai,
Aayiram Vilakku, Chennai,
Tamil Nadu


Aadi discount sale up to 40% Off at Adidas

Adidas one of the leading showrooms for apparels in Perambur offer up to 40% Off on all type of sports apparels for this Aadi sale. This will be valid till 31st July 2012.

Contact Details for Adidas
Adidas, paper Mills Road,
Perambur, Chennai.
Phone: 4350 4849.


Jeyachandran Textiles Aadi Offer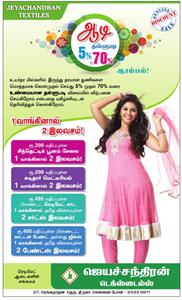 Jeyachandran Textiles offers great deals for this Aadi. The Aadi discount offers by Jeyachandran are as follows:
• Aadi Discounts 5% to 70%
• Buy 1 Saree worth Rs 298 and get 1 Saree free
• Buy 1 Chudi material worth Rs 298 and get 1 Material free
• Buy 1 Shirt Rs 495 and get 1 Shirt free
• Buy 1 Branded pant Rs 495 and get 1 pant free

Contact details of Jeyachandran Textiles
Jeyachandran Textiles,
Ranganathan Street,
T. Nagar, Chennai.


SM Silks Aadi Offers

The Aadi discount sales in SM Silks are as follows:
• 5% to 70% discount during 13th July and 15th August
• Buy 6 sarees and get 1 free.
• Rs. 5940/- worth sarees for just Rs. 2970/-

Contact details of SM Silks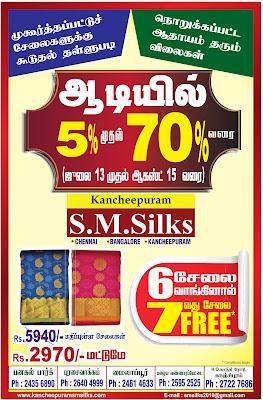 SM Silks Head Office - Kancheepuram
146,Gandhi Road,
Next to Hotel Saravana Bhavan
Ph: 27226586, 27227686

SM Silks Chennai - Show Room
1. SM Silks
10, Nageswaran Salai,
Panagal Park, T.Nager
Chennai - 600 017
Ph: 044 42121177, 42125797

2. SM Silks
919, Mahalakshmi Street,
T.Nagar,
Chennai-600 017
Ph: 044 42129105

3. SM Silks Mylapore
7,North Mada Street,
Mylapore, Chennai - 600 004
Ph: 044 42074454

4. SM Silks Purasawalkam
Prince Towers,
94, Purasawalkam High Road,
Chennai - 600 010
Ph: 044 42042232

5. SM Silks Washermenpet
103,G.A.Road, Old Washermenpet,
Chennai - 600 021.
Ph: 044 42872141


Pantaloons Aadi discount sale

Pantaloons offer 50% discount for Aadi for all types of clothing for Men and Women. One can avail this offer till 31st July.

Contact Details for Pantaloons
1. Pantaloons
Chandra Metro Mall,
Arcot Road, Virugambakkam
Chennai.
Phone: 2377 6391.

2. Pantaloons,
Nelson Manickam Road, Chennai.
Phone: 4358 2289.

3. Pantaloons,
Spencer Plaza Phone: 2849 8533.