Aadi Masa Pandigai 2013 Festivals & auspicious days of Aadi

This article gives you the significance of tamil month Aadi. In this article you get to know the important festival dates and many more useful information for those who are filled with Bhakthi.


Aadi Month Calender 2013 Important Festivals of Aadi

Tamil month Aadi or Aadi Masam begins on July 17, 2013. This is the fourth month in Tamil Calendar and many of them believe that this is an inauspicious month.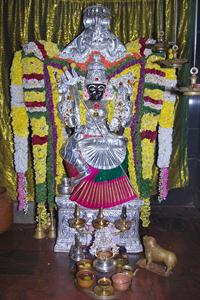 This is because they believe that the night time of Gods Dakshinayana Punyakalam begins in this month of Aadi. Though the above myth is believed some consider this as an important month because of the special Tamil rituals and festivals.

The tamil month Aadi is dedicated to the worship of the Goddess and Varalakshmi Pooja is celebrated in this month. The Aadi Amavasi is dedicated to worship the dead ancestors. They believe that poojas performed on this day will go to the ancestors and all the generations will be blessed by them.

Aadi Krithigai, Aadi 18 Peerukku and Aadi Pooram are other important festivals. All the Tuesdays and Fridays in the month are considered as auspicious and dedicated to Mother Goddess. On these days the young unmarried women and those who suffer from Naga dosham or Kalasarpa dosham go to the temples which have snake puthus and offer the snake egg and milk. They worship the snake as God. If you are interested find Tamilnadu festival recipes here.
Aadi Masam ends on August 16, 2013.


Aadi Month Calender 2012, Important festivals in the month of Aadi

July 17, 2013 - Wednesday - Aadi Pandigai
July 22, 2013 - Monday - Sri Gomathi Ambal Thabasu Katchi
July 31, 2013 - Wednesday - Aadi Kiruthigai
August 3, 2013 - Saturday - Aadi 18 - Pathenettam Perrukku
August 6, 2013 - Tuesday - Aadi Amavasai

August 9, 2013 - Friday - Aadi Pooram
August 10, 2013 - Saturday - Naga Chaturthi
August 11, 2013 - Sunday - Garuda Panchami
August 11, 2013 - Sunday - Rameshwaram Sri Ramanatha Swamy - Sri Parvatha Vardini Ambal - Thirukalyanam
August 16, 2013 - Friday - Sri Varalakshmi Viratham
August 16, 2013 - Friday - Aadi Iruthi - Aadi Months Ends