Varalakshmi Pooja Recipe Paruppu Thengai PalPayasam, Paruppu Payasam with Coconut Milk

This is a delicious payasam recipe which is prepared in all the traditional houses in Tamilnadu on the day of Varalakshmi pooja. Get to know how to prepare this yummy payasam and get the blessings of the Goddess.


Varalakshmi Pooja Recipe Paruppu Payasam with Cocunut Milk

Varalakshmi Pooja is celebrated on 27th July 2012 on the Tamil month Aadi. This is a very important festival for every women either married or unmarried. They worship the lord for the health of their husbands. Paruppu payasam is one of the important recipe which is offered as Neivaidyam for the Goddess Varalakshmi. This is a traditional old recipe which is prepared in all the tamil houses.


Ingredients for making Paruppu Payasam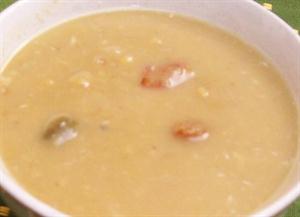 Grated Cocunut - 1 Cup
Moong dhal - 3 tbsp
Raw Rice - 5 tbsp
Jaggery - 1/2 Cup
Fresh Cardamom finely ground
Ghee - 1 teaspoon


Method for making Paruppu Payasam

1. Fry the moongdhal till you get a good aroma, mix this with raw rice and pressure cook by adding required amount of water.
2. Now to the above mixture add finely powdered jaggery and add water if required.
3. Allow this to boil and keep in low flame for 5 minutes till everything gets blended.
4. Prepare coconut milk meanwhile and add this to the above mixture.
5. Allow till it boils for 1 minute.
6. Now the sweet Paruppu payasam is ready for pooja.