Thengai Sojji Aappam Varalakshmi Pooja Special Neiveidyam Recipe

This article "Thengai Sojji Aappam Varalakshmi Pooja Special Neiveidyam Recipe" is a very popular sweet recipe of Tamilnadu which is prepared during the special poojas in all traditional houses in Tamilnadu. Read the article and know how to make this in a simple way.


Tamilnadu Sweet Thengai Sojji Aappam Neiveidyam Recipe

Thengai Sojji Aappam is a traditional sweet recipe of Tamilnadu. This is a very yummy healthy recipe made of maida, rava, coconut and jaggery. This is prepared in all festival occassions such as Ayudha pooja, Varalakshmi Pooja, Diwali, etc. Read this simple and easy method for preparing Thengai Sojji Aappam.


Ingredients to prepare Thengai Sojji Aappam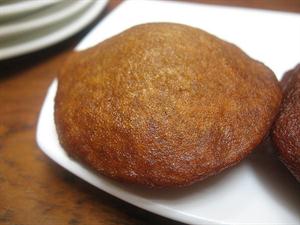 Rava - 2 cup
Maida - 2 cup
Grated Coconut - 1/2 cup
Cashew pieces - 1 tbs
Powdered Jaggery - 2 cup
Cardamom powder - 1 tsp
Ghee for deep frying


How to prepare Varalakshmi Pooja Recipe Thengai Sojji Aappam

1.Take the maida in a vessel and add a pinch of salt and little ghee and knead it into a soft dough.

2. Allow this to stand for half an hour.

3. Next fry the rava till an aroma comes and set aside.

4.Boil the jaggery with water till you get a thick consistency, to this add the fried rava, grated coconut, cashew pieces, cardamom powder.

5. Allow this to stand for a few minutes in low flame. Now the tasty "pooranam" is ready.

6.Make small lemon sized balls out of the dough, flatten and keep a small ball sized pooranam and close it without any hole.

7. Now prepare all sojji appams and deep fry in oil.

Now the yummy Thengai Sojji Appams are ready.