Tamilnadu Vinayaga Chathurti Recipe Uppu urundai

This article gives you the simple and easy way of making the traditional Tamilnadu Uppu Urundai. This is prepared on Vinayaga Chatuthi and Ayudha Pooja festivals. Try this recipe and enjoy.


Tamilnadu Traditional Tiffin Uppu urundai Recipe

Uppu urundai is a traditional Tamilnadu recipe which is prepared during festival time. This is prepared on Vinayagar chathurti and Ayudha Pooja festivals. This is also served as a evening time snack. This is a healthy food because it is steam cooked and consumes very little oil. This is a good food for old people and also for growing children.


Ingredients to prepare Uppu urundai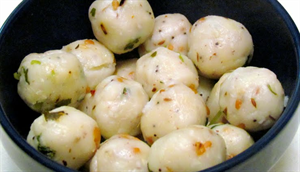 Rice flour - 1 cup
Water - 2 cups
Salt - 1/2tsp or to taste
Oil - 1 tsp

Find details about
Tamilnadu special recipes
Tamilnadu festival recipes

For Seasoning Uppu Urundai
Mustard - 1tsp
Hing- 1/2tsp
Red Chillies - 2
Channa Dal - 1tbs
Coconut - 2 tbs
Curry leaves - required
Oil - 1 tsp


How to make Traditional Tamilnadu Recipe Uppu urundai

1. Boil 1cup of water with the required salt and oil, add the rice flour slowly and just mix and keep in stove till it gets blended with water.

2. Now knead this dough to form a smooth and soft dough. Set this aside.

3. Heat oil in a kadai and add all the ingredients given under seasoning.

4. Add this to the dough and mix well.

5. Now make small lemon sized balls out of the dough.

6. Place the balls in idli plate and steam this for 10 to 15 minutes.

Uppu Urundai is ready to be served.