Rameshwaram beach:All you want to know-Precautions to be taken, hotels and how to reach

Are you planning to make a visit on Rameswaram beach. Rameswaram beach is situated in Rameshwaram city of state Tamilnadu and is famous beach of Tamilnadu.Here is the information which will help you to know about the beach, precautions to be taken while visiting, where to stay in Rameswaram and how to reach Rameswaram beach. For further information, kindly read the article as below:


Rameswaram-a famous beach of Tamilnadu

Rameshwaram is a city in southern India and one of the famous tourist destination among people. Rameswaram is known for its scenic beauty. Number of tourists, pilgrims come here to see its temples, beaches, sea etc. Ramanathaswamy Temple is the most visited religious centre in Rameswaram which is also known as Banaras of southern India. Rameswaram is the place which satisfies both the pilgrims and day-tripper.

In Rameswaram beach, you can find number of dolphins playing in the tranquil water. In this beach there are some sites which holds good for swimming, sunbathing etc as the water level is low in those areas. It is the area ideally suited for swimming. The sea water is quite calm. The Rameshwaram beach, Tamilnadu is a spectacular situate for beach celebration as this pleasing beach is encircled by coral marine. Number of rarely found species can be easily found here like starfish, algae, sea cucumber, crabs, sponges etc. For preserving water species, supremacy of Tamilnadu established a reserve centre there, known as the Gulf of Mannar.


What to do and what not to do at the beach

There are some points which you need to remember while visiting Rameshwaram beach. For more information, kindly read the following information: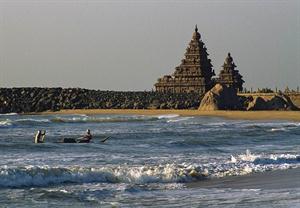 If you want to visit Rameshwaram beach, then you need to buy an entry ticket.
If you are coming there with your automobile, then you need to pay parking fee for that too.
You can't trash any where on thebeach. Throwing garbage is strictly prohibited there. You will be fined if caught.
Cooking food like fishes etc. is strictly prohibited there. You need to take permission from the authority for cooking, they grant it under their care. Even though you can't claim for right to cook at the beach.
Where to stay in Rameswaram

Rammeswaram temple is situated at the acute of city. There are number of hotels for visitors, pilgrims offering standard facilities. Here is the detail of hotels in Rameswaram city. You can prefer any of these hotel for staying. Contact information of the respective hotel is also given with it. Look out for Budget Hotels in Rameswaram here.


How to reach Rameshwaram beach /Accessibility to Rameshwaram beach

If you are confusedwith the thing that how to reach Rameshwaram beach. Then don't worry at all we are here to help you. Information given below will help you to reach. It is too easy to access directy toward the Rameswaram beach. The beach area is well connected with rail and road transport. There is no airport near in Rameswaram city yet. But one can head toward the city as the closest airport is at Madurai. From there by the mean of taxis and other mean of transport you can reach Rameswaram beach

How to reach Rameswaram by air:It is not so convenient to reach Rameswaram beach by air mean as the city is not connected to other major cities of Tamilnadu like Chennai,Tirunelveli Madurai, Ooty by air link. If you want to reach Rameswaram by air route then the nearest airport which connects you to Rameswaam is at Madurai. Madurai airport is about a distance of 156km away from the city. Taxis are outside the airport station which will take you to your desired destination. Number of flights from different parts of country arrive there.

How to reach Rameswaram by Rail: It is easy to reach Rameshwaram by rail link as the city is well connected to other cities by rail route. Cities like Madurai,Madras, Kanyakumari, Trichy, Coimbatore are connected well with Rameswaram by rail transport. Capital city Chennai is about a distance of 154km from Rameswaram. From Madurai you can reach to major cities of country. So you can prefer traveling by rail transport while visiting Rameswaram.

How to reach Rameswaram by Road: State Government arranged a number of buses which connects the major cities of Tamilnadu to Rameswaram. Government as well as privatebuses are there which will take you to Rameswaram and from Rameswaram to other cities as well. Buses travel manycities which includes Tirunelveli, Kanyakumari, Chennai, Madurai. Kanyakumari is at a distance of 320 kms from Rameawaram, Karaikudi is 149 kms, Madras is 666 kms, Madurai is 167 kms, Ramanathapuram is 55 kms, Sivaganga is 136 kms, Pudukottai is 188 kms, Tanjore is 248 kms, Tuticorin is 180 kms, Tiruchendur is 209 kms from the city.