Vallinayagam Olaganthan Chidambaram Pillai VOC - Freedom Fighter from Tamilnadu

Are you eager to know about Vallinayagam Olaganthan Chidambaram Pillai(V.O.C). Chidambbaram was an political leader and a freedom fighter from state Tamilnadu. He did a lot toward the society to remove the exploitation done by British Government. In this article, you are going to read profile and biography of Vallinayagam Pillai.


Brief introduction of Vallinayagam Olaganthan Chidambaram Pillai

Vallinayagam was a freedom fighter and social leader from Tamilnadu. He was born on 5 september 1872 in Tirunelveli district of state Tamilnadu. He is too recognized by names like V.O.C, Kappalottiya Tamilan. He is knowm as the The Tamil Helmsman. V.O.C. was one of those members who participate in INC and afterward stimulate with treason by British supremacy. Check out the details of more Freedom fighters from Tamilnadu here!


Early life of V.O.Chidambaram Pillai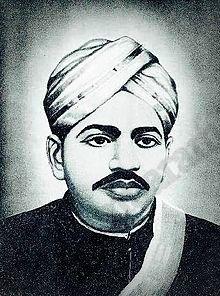 V.O.C. was born in Tirunelveli. He was the child of Olaganathan Pillai and Paramayee Ammal. His father was a well known lawyer of the district. When he was young, he used to play games like swimming, mind games, kabaddi and many other. He hear many ancient and religious stories like Mahabharatha, Ramayana from his elders. He was a brilliant student. He knows languages like Telugu, English. When he was a child, he used to study in his town from his neighbor Krishnan. Krishnan was a officer. The time when Krishnan got his transfer letter, Olaganathan decided to construct a school in the town . He managed to make this possible with the help of villagers. At that time, his father used to sent him in the village school. Later on, he went to Thoothukudi for further studies. He completed his study and then start working in Taulk office as a clerk. His father sent him to a law school. He completed his study of law in 1895.


Inspiration of Chidambaram to make society a better place to live

When V.O.C. was in Chennai, he congregate with a saint. Thissaint was from Swami Vivekanand Ashram. He inspired him to make society a better place to live. A s at that time, the society was bounded by number of evils. In those days, social movements are at their heights. From those days, he was influenced by Tilak Maharaj and become his follower. Thereby he joined Indian National Congress.


Swadeshi Shipping Company

He establish number of organizations like Swadeshi Prachar Sabha, Dharmasanga Nesavu Salai, National Godown, Madras Agro-Industrial Society Ltd and Desabimana Sangam. As at that time British Government used to dominate on Indians. For dominating them, he begin a shipping company. He named this company as Swadeshi Shipping Company and too register it to make legal so that British Supremacy could not harm it. The annual turn over of the company was about ten lakh. Swadeshi Shipping Company run under the control of Pandi Thurai in starting. Pandi was a land-lord and a president of Madurai Tamil Sangam.

A the very starting, the company was in loss. As it doesn't make any business and thus was leased by Shawline Steamers Company. But B.I.S.N.C. oppose that. When Chidambaram get to know about this thing, he pledged to take his ships back. Thereby he toured the whole country to sell the rest shares of capital. In small interval of time, he sold his shares and however managed to take his ships back. Swadeshi managed to make the fare price by 0.5. By seeing this, to attract people, British company offer the fare free trip to the passengers along with a free umbrella.But B.I.N.S.C rejected this free scheme and Swadeshi got better business from Tuticorn to Colombo


Arrest of VOC Chidambaram

V.O.C get himself involved with politics. He decided to make people aware from the exploitation done by Britishers. When British officer Mr. Winch invited him to meet. In the meeting he said him to not to get involved in political movements. But Chidambaram opposes this proposal so got arrested in 1908 along with his Comrade Subramanya.
Over this, his followers arrange to do strike. The strikewidespreadin schools, colleges, police stations, offices. This was one of the most sensible protest arranged in India. Four common people were killed during this strike. Chidambaram was blamed with 123-A and 153-A section. Chidambaram was jailed for about 40 years.


Contribution of Chidambaram

Chidambaram wrote number of Tamil books after his release from Jail. He did a lot for the nation. V.O.C. was one of the colourful and devoted personality. He spent forty years of his life for the sake of our mother land. Alone he establish Swadesh Shipping empire for the sake of people. He oppose the British officer who ask him not to aware people. No doubt, he is one man army who has the courage to serve the country by himself. After his release from prison, he again joined Indian National Congress and being a leader, he too serve the country. Thereby, people called him as "Kappal'ottiya Thamizlan" ("the Tamil who drove the ship") and "Chekkiluththa Chemmal".