Krishna Jayanthi Traditional Sweet Recipe Rava Laddoo or Rava Laddu

Are you searching for Tamilnadu festival recipes? Then here is a traditional recipe for you to make on the occassion of Gokulashtami, Vinayaga Chaturthi, Vijayadashami and Deepavalli festivals. Try this rava laddoo during this festival seson and enjoy.


Tamilnadu Gokulashtami Recipe Rava Laddoo

Rava laddoo or rava laddu is one of the most popular Tamilnadu sweet recipe which is prepared with simple ingredients such as rava, ghee, little milk, sugar, dry fruits and cardamom. This is a very easy to make sweet prepared in special festivals such as Krishna Jayanthi, Vijayadasami, Ganesh chaturti and Diwali festivals. Look out for more Tamilnadu festival recipes here in our site! We will update them everyday.


Ingredients to make Rava laddoo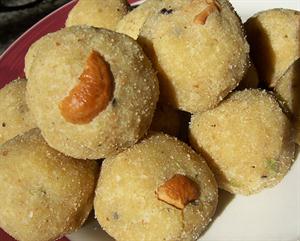 Rava - 1 cup
Sugar – 11/2 cup (finely ground as powder)
Ghee – ½ cup
Milk – ¼ cup
Cardamom powder - a pinch
Cashew nuts - 10 whole nuts
Almonds - 10 nos
Grated fresh coconut – 1 cup


Method for making Tamilnadu festival recipe Rava Laddu

1. Heat 2 tsps of ghee in a heavy bottomed vessel and roast the cashews and almonds. Keep aside.
2. Now roast the coconut and remove.
3. Add the remaining ghee and roast the rava even if you have bought a roasted rava. Roast till a fine aroma comes.
4. Now take the roasted rava in a vessel add the roasted raisins and coconut, add the cardamom powder and powdered sugar.
5. Add the warm milk slowly and mix the ingredients till you are able to form a ball.
6. Make the laddoos of the desired size and keep in a serving plate.

Now the Rava Laddoo is ready for pooja.