MGM DizzeeWorld in Chennai - A perfect place for fun and adventure in Tamilnadu

There are number of amusement parks in Chennai and MGM Dizzee World is one of those. MGM Dizzee located on ECR road is an oldest amusement park of Tamilnadu which offer safe and adventurous sports, rides. In this article we have given the list of rides offered by MGM Dizzee Chennai with its contact details. For more information about this best place for hangout in Chennai, kindly read the article as below:


MGM Dizzee World:A brief introduction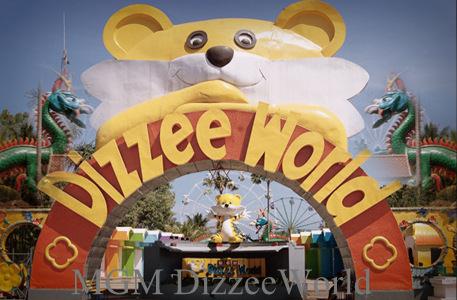 In Chennai, there are number of Amusement Parks in Chennai which offering fun and adventurous games. Out of those, MGM Dizzee World is the oldest and safe point offers games related to fun and adventure. Here, you can enjoy your trip along with your friends, family . MGM Dizzee Word is well maintained and is the best hangout place in Chennai. This amusement park of Chennai is well recognized by International standards too. About more than three million people toured this place annually. MGM offers rides which are full of fun and thrill. This amusement park is established in an area of about 12,000 sq ft. There you can find an artificial swimming pool in which gives an elating look up. This swimming pool is brought from Italy and was known by the name of Chinna Kutrallam. MGM is the only park in county offering 60 rides in one place.


Rides offered by MGM Dizzee World

MGM Dizzee World offer about 60 fun unlimited and exciting rides. You can enjoy these rides with your family and friend. MGM is the place which satisfies both adults and children. Rides offered by MGM Dizzee World are safe too. For more information that how to reach this place, contact information kindly check out article on MGM Dizzee world amusement park.


Contact Information of MGM DIZZEE WORLD

Are you searching for the location, contact number of MGM Dizzee World. Here it is!
Contact address of MGM DizzeeWorld
1/74,East Coast Road,
Muttukadu
Chennai :600 112
Tamilnadu,India
Contact Number:
Phone number : 044-27472129
Mobile number : 9500063716 / 9500063717.
Fax number : 044-27472487
E-mail id : [email protected]

Timing of MGM Dizzee World: Here is the timing detail of MGM Dizzee which will help you to manage and to enjoy your trip a lot.
Weekdays - 10AM-6:30 PM
Weekend and National Holidays : 10AM-7:30PM
Weekly Holiday : Wednesday

Website of MGM Dizzee World - http://www.mgmdizzeeworld.com
Entry fee: Entry fee is Rs 500 for Adults and 400 for kids.