Aadi offers and its shopping in branded outlets in Tamil Nadu

Stay tuned towards the site and below article to get to know about various Aadi kondattam sale offers in various cities of Tamil Nadu. In these articles you will get to know about various categories of offers across different outlets. Read more to know about the countless offers.


Aadi festival and its sale

The most awaited Aadi discount sale in Tamilnadu have already started and moving up forward in a full swing across different cities under various categories of outlets. The ultimate motto of different outlet owners towards Aadi sale is to sell as much stock as possible in order to make their outlet available with fresh loaded stock for the forth coming peak festival season. Few established outlets have already introduced this discount sale nearly 30 years ago and continuous till now but presently these outlets come up with a good set of competitive offers to make them stand apart from the crowd towards Tamilnadu aadi festival offers!

Different outlets in order to provide good value for money to its customer provides them with a wide variety choice of offers regardless of the product they offers in addition to attractive promotional offers. This year 2012 even few branded textile showroom have come up with 60-70% of discount on tag price along with few consumer durable stores who have come up with lucrative freebies this season in addition to tempting discounts for big purchase value. Even few stores in order to make its customer happy assure their customer with extravagant gifts for every purchase made. Aadi has also made a good market share towards sale of kitchen and domestic appliances.

It is also noted that this year many outlets by understanding the competitive factors towards various categories of offers this season had put forth themselves with proper planning of creative paper advertisement and TV advertisement with good caption, design of message in an innovate manner to reach themselves into the minds of all set of customers with a short span of time to achieve countless sales within their offer sale period.


Aadi 2012 offers and Shopping Tips
Initially develop a rough check list about the product you are going to purchase.

Next decide about your budget.

Check the list of available stores dealing with offers for the product in different areas.

After selection of shopping area and before going to shopping have a study about the offers in each store.

Decide and give priories to the store you have planned to visit and the product or brand you are going to purchase.

Check for different varieties along with the quality of the product.

Keep up an eye towards the price of your product.
Tamil Nadu Aadi 2012 Discounts outlets across various cities

Aadi monsoon sale not only stops with specific categories of outlets but they caters to different types of brands and discounts for variety seeking buyers across various branches of its outlets in wide area of cities across Tamil Nadu. Few highlighting eye catch offer stores and brands are detailed below as:

Textiles: Pantaloons, Radha silk emporium, Sundari silks, Jeyachandran, Europa, Mega mart, Reliance trends, Pothys, Chennai silks, Scullers, Lollipop, Kalanikethan, RmKV, Tommy Hilfiger, Aldo, Guess, Globus, Celio, Lifestyle, Jashn, Shoppers stop, Colour plus, Rex

Jewelry: Diya, Lalitha, Thangamayil, Joy alukkas, Malabar gold, Gitanjali, Kantilal, Asmi, Nakshatra, Khazana
Eye wear: Idee, GKB, Lawrence and mayo
Mobile: Univercell, Sangeetha, Poorvika
Footwear: Bata, Reebok, Clacks, Adidas, Kanders, Metro
Furniture: Damro, Wood pecker, Sathya, Deccan, Mega Home store
Home appliances: Shahs, Reliance trends, Ezone, Vasanth & co
Computer: Modern, Vivin
Auto mobiles: Hyundai, Audi, Nissan, Honda, Chevrolet, Toyota, Benz, Ford, Maruti
Bags: Roshan, Sree leathers


Aadi percentage of offers

The below percentage of offers may be from specific outlets in an area along with offers available on selected brand and styles.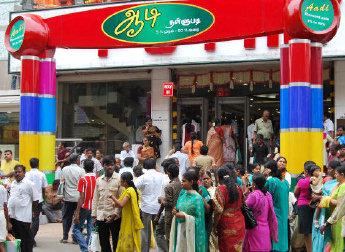 Sale up to 70% off

Sale up to 50% off

Sale up to 40% off

Flat 50% off

Flat 30% off

Flat 25% off

Flat 20% off

25% off

Additional 5% off to privileged members and selective card holders

Also read – Aadi Tamil Festivals and its offers from below link:
Aadi Tamil Festival and its offers