Tamil Nadu Online Petition Filing to District Collector

In this article you will find information about Tamil Nadu government online petition filing to the respective district collectors. To make a note of the above as start up this facility is available only to selected district later all districts of Tamil Nadu will be added up. From this article you will also be able to get to know about how to file an online complaint; its status along with the district supported. Read more to get to know in detail.


Online Petition to District Collector of Tamilnadu

We as a public would be able to witness a number of problems occurring in and around us. For example like water, road facility, electricity and many more. In order to find a solution to the above problems we would be in a position to contact our local commissioner or respective officer and the level of interaction between us and them would be a number of times irrespective of date and time. The above situation would even lead an individual who served the society to sit idle. Moreover we would also be able to notice a few well known personalities in an area would get in touch with higher officials towards the concern problem and in a few cases give them some money as a bribe in order to close the case. But everybody in the society cannot carry out this task and this may be due to their status of position in their residing area, time, money and many more.

The right person who can provide us with the solution in right manner at right time would be concerned district collector. It would be difficult for an individual from the society even to get an appointment with the concern person. Due to this factor the people would not take care towards the problem they decided to put forward and put it in a dwell. But the Tamil Nadu government a few years back on 14/12/2006 implemented online GDP a latest facility through online to state the problem of the individual or society as a public grievance mechanism to concern district collector. But presently many of them are unaware of this facility.


How to file a online Petition to District Collector in Tamilnadu

1.Log on to Tamil Nadu Online Petition Filing

2.A new window will open and at the right side of the site select button for the list of districts implemented with online petitioning will be available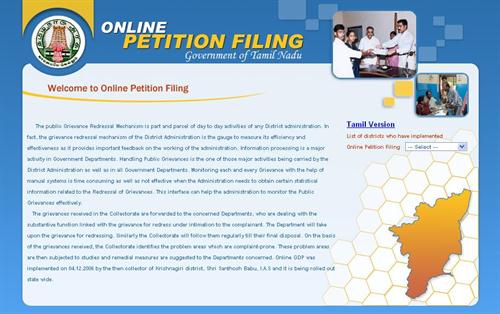 3.The users are requested to click on the select button and they will be displayed with list of supporting districts. The users are then requested to select their respective district. This facility as a startup has been introduced only to the listed cities available from the menu and later will add up with more number of districts.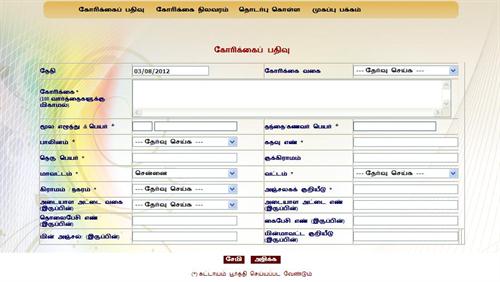 4.After selecting of your required district you will be redirected to another window of the webpage. Select the tab "Registered file" written in Tamil as "korikkai pathivu". The user should fill in some mandatory fields by selecting the required available reason and given as selection option under registered file type. Please provide with correct information for future reference. The user has also facility to type his petition in his own words.

5.In order to get live with this scheme the government has come up with excellent features as below. Any user who files a complaint by giving complete detail information about him will be provided with a number towards their complaint registered. By getting with complaint number and logging into the site and clicking on problem status and tab "korikai nilavaram" with input of the above given number will provide you with a complete detail status information of your problems filed. More over if no solutions are being taken against the complaint number then the issue can be taken to the court.


List of the districts supported with online petition filing Tamil Nadu government
Ariyalur

Chennai

Coimbatore

Gadalur

Dharmapuri

Dindigul

Erode

Kaniyakumari

Karur

krishnagiri

Madurai

Nagapatinam

Namakkal

Nilgiri

Perambalur

Pudukottai

Ramnad

Salem

Sivagangai

Thanjavur

Theni

Thiruvarur

Thiruvallur

Tirchy

Tirunelveli

Tiruppur

Thiruvannamalai

Tutocorin

Velur

Villupuram

Virudhunagar
Conclusion

Hope this would be one of the excellent information which Tamil Nadu people and public even educated and uneducated could not be aware till date. With this information in your hand it might be useful even to an individual and also to the society. Let all members of Tamil Spider family shake hands to pass this information with your friends and relatives in all ways as a part of our social service towards public grievance to make our society and surrounding clean and green.