Vinayaga Chathurthi Thengai Vella Poorana Kozhukkatai Recipe in Tamilnadu style

Get to know how to prepare pooranam Kozhukkatai in a easy way. This article gives you the method for making Coconut jaggery kozhukkatai for Vinayaga Chathurthi.


Vinayaga Chathurthi Thengai Vella Poorana Kozhukkatai, Coconut Jaggery Kozhukkatai Recipe in Tamilnadu style

Kozhukkatai is one of the traditional recipes of Tamilnadu which can be prepared either as a sweet or as a savoury. This is a special item prepared during the festival of Vinayaga Chathurthi. It is considered as the favorite dish of Lord Ganesha and so it is offered to the lord on this festival. In this article you get to know the preparation of Thengai Vella Pooranam Kozhukkatai in a easy and simple way.

Tamilnadu special recipes
Tamil recipes


Ingredients to make Ganesh Chaturti Thengai Vella Poorana Kozhukkatai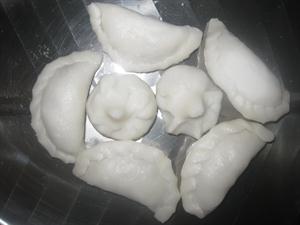 Raw rice – 1 cup
Powdered jaggery-1/2 cup
grated coconut-1/2 cup
Cardomom-2
Ghee -2 teaspoon
Gingelly oil-1 tablespoon


Method for making Thengai Vella Poorana Kozhukkatai

1. Wash and Soak the rice for an hour, then dry this in a towel and grind it in a mixie when it is dry.

2. Keep a heavy bottomed vessel and boil some amount of water and then add this ground rice with salt and stir well till you get a ball like consistency.

3. Now the dough is ready it should not be too sticky and next divide this into balls and close with a wet tissue paper.

4. Now you can start preparing the coconut poornam. Boil 1/4 cup of water and addd the jaggerry which once dissolved strain the impurities.

5. To this add the grated coconut, ghee and the powdered cardamom and stir well till dry and the coconut is roasted.

6. Make small balls of the pooranam.

7. Now take the ball sized dough pat it to a small cup place the pooranam and close it in the form of ball or into a semicircle.

8. Now place all the Kozhukkatais over the white cloth in the idli cooker and steam cook for 5 to 10 minutes.

Now the Thengai Vella Kozhukkatai is ready.